When it comes to driving, we've all had our ups and downs over the years, particularly during our early days of getting behind the wheel. This is very understandable – cars are complex machines, and it takes time to people to get used to operating them. However, it's undeniable that some people never quite seem to get certain aspects of driving, no matter how long they've been road legal for.
One of the best pieces of evidence for this is #parkingfails. If you search for this hashtag on Twitter, you'll be treated to seemingly endless examples of cars whose owners couldn't quite bring themselves to park properly.
When we discovered this hashtag, one of the first things we wondered was which drivers most often appeared in these tweets. To that end, we manually went through 1,000 tweets containing #parkingfails and noted the cars of the owners pictured in each one.
Which drivers do you think will most often appear in our research? Read on to discover our findings…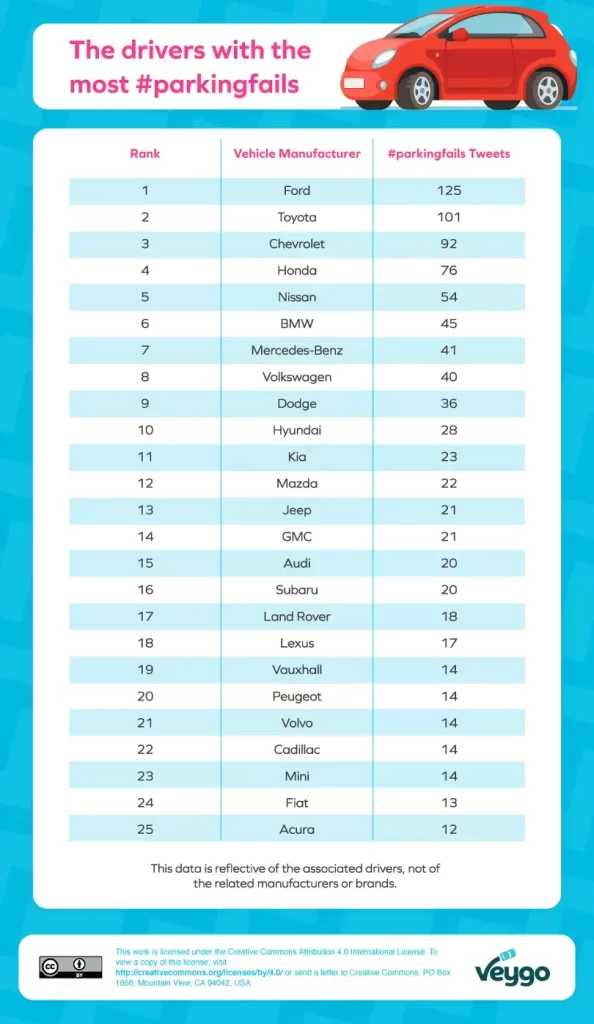 In the end, the most common car brand spotted in a poorly parked place turned out to be popular American brand Ford with 125 parking fails throughout our sample, representing 12.5% of the gathered tweets.
Second place, meanwhile, belonged to none other than Japan's Toyota, with 101 appearances in our dataset. In third place are drivers of Chevrolet, with 92 cases of poor parking.
Fourth and fifth positions are occupied by Honda and Nissan drivers, with 76 and 54 mentions, respectively.
Some people may be surprised to see BMW drivers in sixth position, considering the reputation BMW drivers have as some of the worst on the road.
Completing the top 10 are Mercedes (41), Volkswagen (40), Dodge (36) and Hyundai (28).
Many of us come across examples of bad parking every day and occasionally, we may be guilty of some questionable parking ourselves when faced with tricky manoeuvres.
And a small proportion of drivers simply don't care about other motorists or pedestrians when choosing how and where to leave their vehicles, such as illegally on double yellow lines.
But thanks to advancements in car technology, like parking sensors, reverse cameras and autonomous park assist modes, parking is getting easier for motorists.
There are also some golden rules to remember if you find yourself having a #parkingfail.
Firstly, stop, think and take your time. Try to block out any pressure from other motorists and concentrate on your manoeuvre. It is far better to take longer to park correctly the first time than to rush and make mistakes which could end up in a prang.
When parallel parking, always check the space is big enough before starting. Pull up alongside it and make sure there's about 2 feet to the front and to the rear. Line up your front passenger window with the car in front's bumper then reverse until your back tyres are roughly aligned with the back bumper of the parallel car.
Apply your brakes when you're clear of the car in front and can see the kerb in the wing mirror. Straighten up until you are level with the kerb and pull in your wing mirrors.
Finally, always double check your surroundings before you begin the process of parking your car. This can help to prevent minor accidents, avoid pedestrians and assist you in parking safely.
If you're unsure on the rules when it comes to what is legal and illegal parking, refresh your knowledge by reading the latest version of the Highway Code. If you suffer from parking phobia or could do with brushing up your skills, take some time to practice with someone in a quiet place or organise a few refresher lessons with a qualified instructor.
Learning to park properly is an unavoidable part becoming a competent driver. If you're looking to learn how to drive, pick up some of Veygo's learner driver insurance to get you on the road quickly and with comprehensive cover.
Methodology
To gather the data, Veygo's data analysts reviewed 1,000 tweets containing #parkingfail and noted the manufacturer of each badly parked car shown or referenced in each tweet. The manufacturers identified were then ranked in order of how often they were referenced in #parkingfail tweets, from most often to least often.
About Veygo
Veygo provides short-term car insurance to help people get behind the wheel, so you don't have to be a passenger. Veygo's insurance is for people wanting to share cars, insure their own car for a short amount of time, or for people learning to drive.
Veygo has sold over 2 million insurance policies and is proud to be part of the Admiral Group. Its comprehensive insurance is provided by Admiral, voted Best UK Car Insurance Provider six years in a row by The Personal Finance Awards.
As always with us at Veygo, if you're looking to brush up on your parking skills then our temporary cover can help you to practice in a friend or family members car. Or if you're still a learner then why not get the extra practice in and purchase some learner driver insurance and get yourself on the roads!