Unless you're out in the sticks, driving anywhere in the UK means you'll likely have to pass a zebra crossing. For learner drivers or those of us just starting out with driving, knowing your right of way can feel like a bit of a puzzle. There are so many of us who get confused by zebra crossings – 80% of drivers in fact! So we could all benefit from brushing up on our knowledge.
What is a zebra crossing?
First introduced to the UK in the 1930's, a zebra crossing is one of four pedestrian crossings. This type of crossing relies on cars being able to see the pedestrian, so they have to make sure they're clearly visible when waiting on the side of the road. While helping to keep us safe, they're painted in black and white to make them easily identifiable across the world.
Who has right of way on a zebra crossing?
The Highway Code says that cars must stop at a zebra crossing if they see a pedestrian moving onto the road. And right of way is automatically given to the pedestrian as soon as they step out. This is one of the main differences the zebra crossing has with pelican or puffin crossings. As these will have a green figure to show the pedestrian when they can start to cross.
Although, cars don't have to stop at the zebra crossing until a person has actually started walking. So even though pedestrians should have priority, they'll need to make sure the cars on both sides have seen them and have come to a stop before making a move.
What is the zebra crossing ahead sign?
You'll be warned about an upcoming zebra crossing by a triangle sign which is outlined in red. These types of road signs are used to let drivers know they're approaching a hazard, so you should be ready to stop your car if needed. It'll look something like this: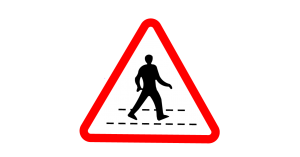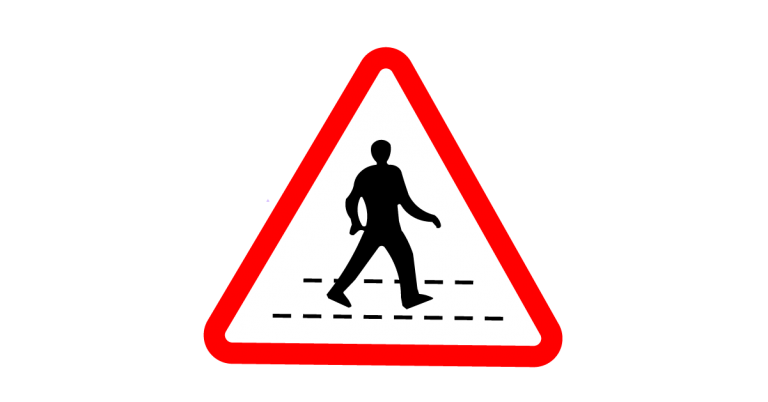 Things like the zebra crossing ahead sign could also come up in your theory test, so getting used to spotting them while out and about on the roads is a great way to practice.
Belisha beacon
Another thing you might see at a zebra crossing are the Belisha beacons. These are flashing amber globes that sit on top of black and white poles, and they're used to make the crossing even more visible to oncoming traffic. Some of the newer ones have even been replaced with LEDs, making them more energy efficient.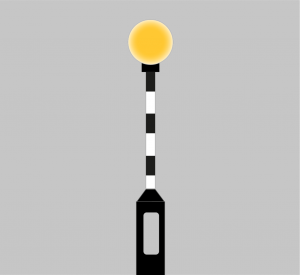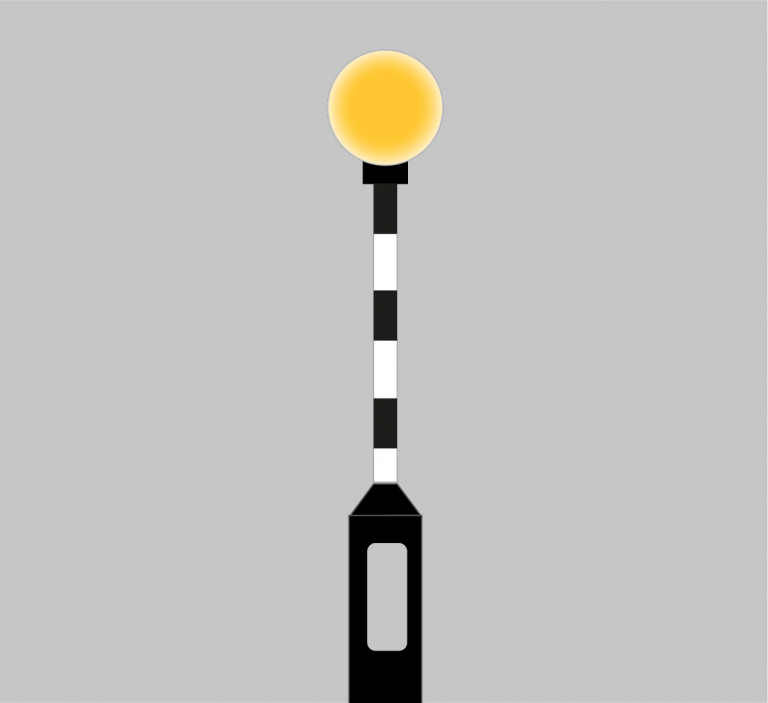 They're also useful when queues of traffic start to build up, as they're generally more visible because of their height. So they can help stop drivers overtaking the queue and putting the pedestrians at risk. This is a good place to note that zebra crossings have to be kept clear when there's traffic, and drivers can't park on them at any time.
How long do you have to stop at a zebra crossing?
As these crossings don't have traffic lights, it can be hard to know when to drive off. Cars are expected to wait until the pedestrian has reached the end of the crossing before moving, to keep everyone involved as safe as possible.
Although, if there's a central island in the middle of the road, the driver can move off once the pedestrian has safely reached this spot. It'll look a bit like this: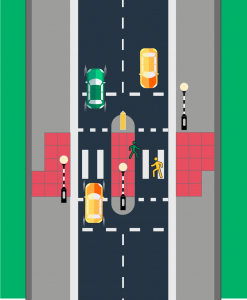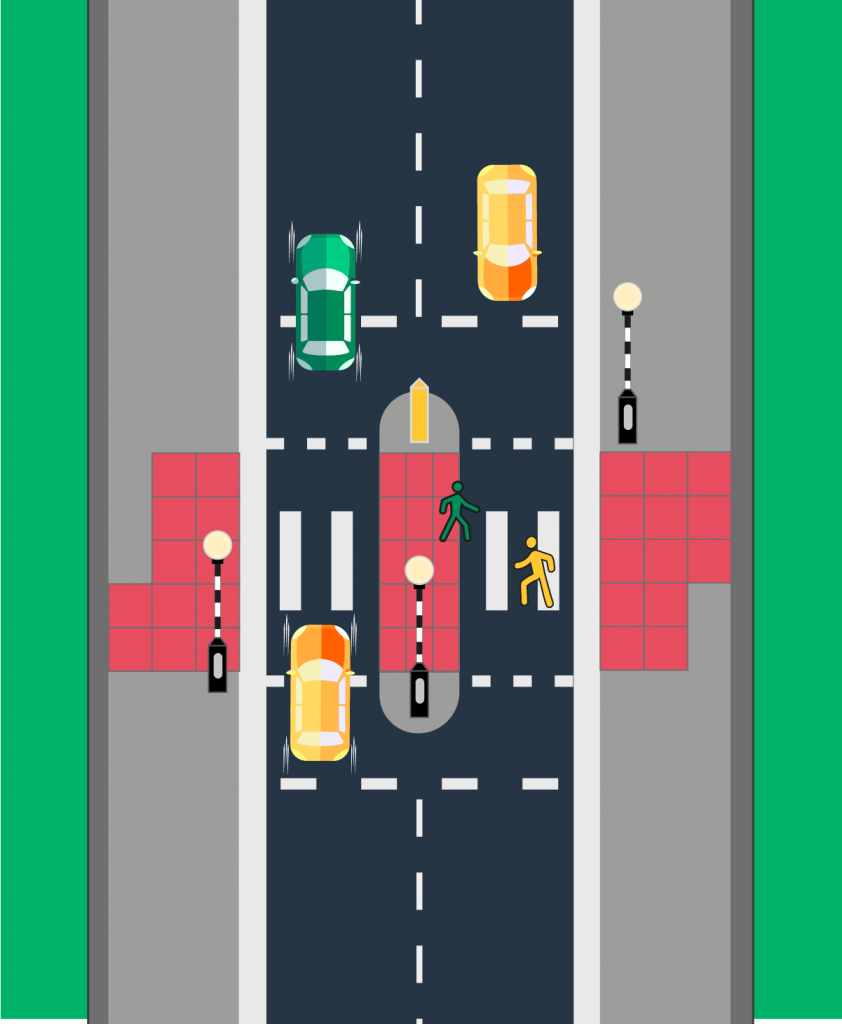 Rule 20 of The Highway Code says that these are counted as two separate crossings. So drivers are free to continue their journey when the pedestrian has reached the island in the middle.
Do you legally have to stop at a zebra crossing?
As you now know, you have to stop once a pedestrian has stepped out onto the crossing. If you don't stop and get caught on CCTV, you could end up with a fine and points on your license for traffic violation. So if in doubt, it's best to stop at the crossing when you see a person waiting at the side.
Can cyclists use a zebra crossing?
It's not illegal for cyclists to use zebra, pelican, and puffin crossings. But Rule 79 of The Highway Code says they should dismount their bike while waiting at the side of the crossing and walk across instead. Cyclists and pedestrians can then use the crossing together, with no one being put at risk. This rule is also the same for Toucan crossings.
Our top tips for approaching a zebra crossing:
There's quite a lot of info to take in with this, so here's our top tips for drivers to remember:
You must stop your car as soon as a pedestrian steps out onto the crossing.

You can drive off once the pedestrian has reached the end of the crossing or the central island.

Zebra crossings have to be kept clear even in traffic and can't be used for parking.

You could end up with a fine and points on your license if you don't stop after a pedestrian has started to cross.
Learner driver insurance
If you're keen to get behind the wheel now that you've got this info on board, we might be able to give you a hand. You could get cover with our learner driver insurance and be on the road in minutes.