Passing your practical driving test is the final hurdle on your learning to drive journey. We know how scary it can be to finally have a date booked in for your driving test. Taking a mock driving test can help you understand what to expect at your driving test and build your confidence ready to smash it.
Those who have taken out learner driver insurance will be able to get in some unofficial mock test runs in, or maybe even just a chance to practice manoeuvres to get a great head start on your mock tests
What's a mock driving test?
A mock driving test is a practice run for your practical driving test. Like on the real thing, your instructor will test you on your driving ability across different road conditions for around 45 minutes. It will usually start and end near the test centre so you could end up on a test route that's similar to the one you'll get on the real thing.
What will happen on the day?
The mock test will cover everything that's covered in the driving test:
An eyesight check

'Show me, tell me' vehicle safety questions

General driving ability

Reversing your vehicle

Independent driving
For more info on what's included check out what to expect and how to prepare for your driving test.
We'd recommend that on the manoeuvre section of the test you ask your instructor to test you on all possible manoeuvres so you know you're prepared for whatever is thrown at you on the real day. For that reason, it's best to book a 2 hour slot to make sure you've got time to complete everything.
Mock driving test report
You'll be assessed on the same stuff as you would in your driving test and at the end you'll be told whether you would have failed or passed. Here's an example of the mock driving test report.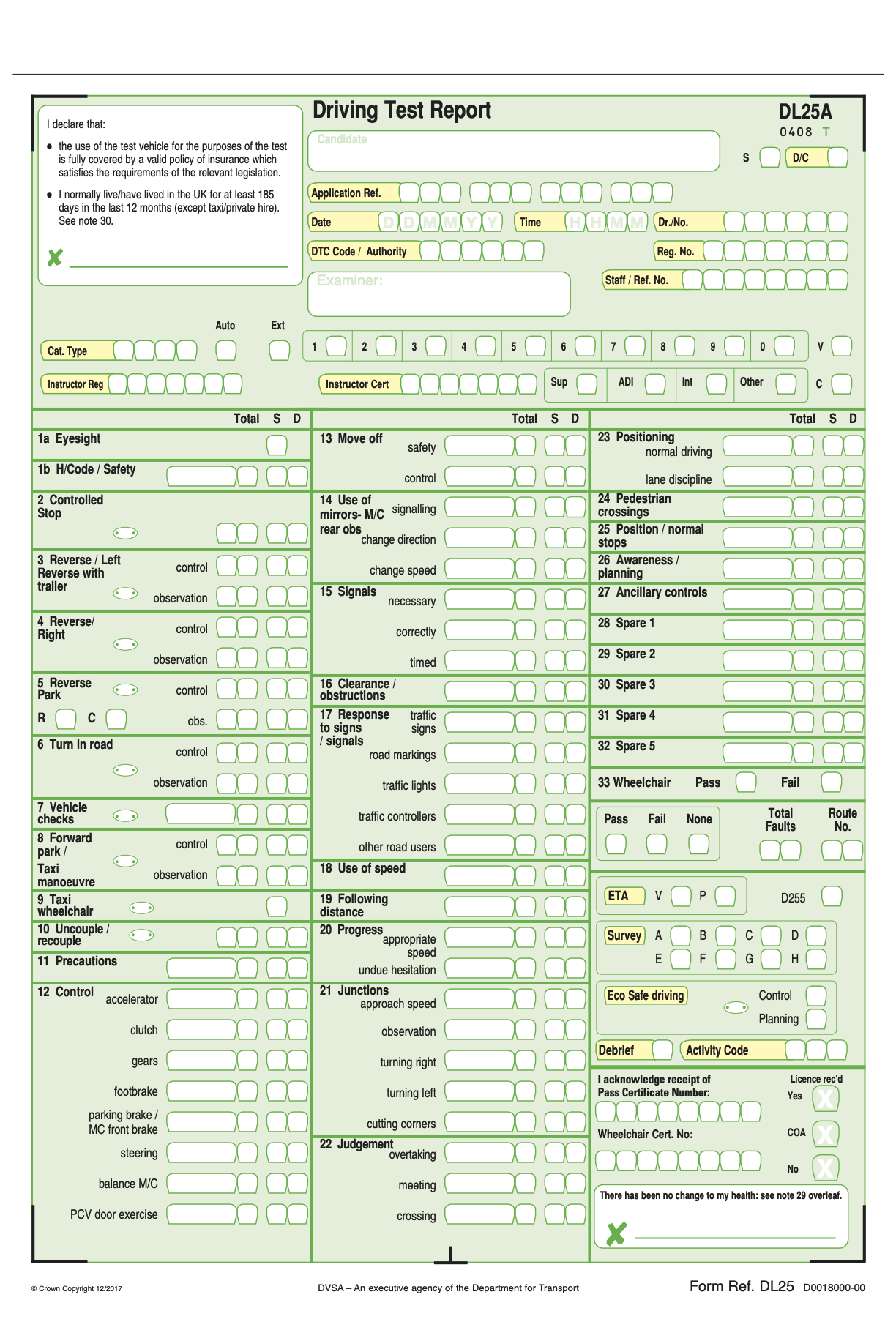 Check out our guide to driving test faults if you want to better understand what will give you a minor and major fault during your test.
Why take a mock driving test?
Learning to drive is expensive. So we get why it feels like a big commitment deciding to go ahead and book your driving test. Doing a practice run will help give you a good indication of where you're at and how likely you are to pass. If you're still not sure, we've got a fun little decision tree that should help you answer the question – am I ready for my driving test?
Doing this with your driving instructor should help calm those nerves by giving you a better understanding of what to expect and proving to yourself you can do it. They give you the chance to understand how a driving test actually runs and what it feels like in those conditions – so hopefully you won't feel so stressed come test day.
Want more tips to help improve your chance of passing? Check out our guide on how to pass your driving test first time.
When should you take a mock driving test?
We'd recommend leaving at least a couple of weeks between your mock and your practical driving test. You may even decide you want to do one before booking your practical test! Although at the moment, with wait times so long due to lockdown, it's probably better to just get it booked. Here's all the latest lockdown rules for learner drivers if you're interested.
Leaving a couple of weeks means that if you make mistakes, you've got time to learn from them and get ready. The last thing you need is a failed mock test the day before your real thing with no time to work on improving!
How to get a mock driving test?
First off, have a chat with your driving instructor and they should be able to give you some idea of when's best to do it, as they will know how good (or bad) you are right now. The easiest way to do a mock test is if your driving instructor is able to do one for you, but remember they won't be a qualified driving test examiner.
That said, If you're not happy with your instructor, check out our article on how to choose the best driving instructor.
However, using a different instructor who you don't know and can bring a pair of fresh eyes is even better. It will feel more like the driving examiner is there and to help replicate the experience of the driving test.
When it comes to doing a mock, a qualified driving instructor is always best. But if a family member takes you out for the mock test then it's a good idea to download and print the mock driving test report that we showed you earlier.
If you fail the mock driving test
Don't worry about it if you don't pass. This is what the mock is about, learning your strengths and weaknesses before the big day! Also, it is much cheaper to fail a mock test than the real one.
Discuss with your driving instructor what you would have gotten faults for and then try and focus on these issues in your next couple of driving lessons. It may also be a good idea to do some private practice outside of your lessons to work on these things.
With our learner driver insurance, you could practice with a friend or family member and get cover from 2 hrs up to 180 days. If you're driving someone else's car, it won't even impact their no claims bonus if you need to make a claim!