It's extremely uncommon to come out of a driving test with a clean sheet. Most people will get at least a few minor driving test faults during their test and that's okay. The examiner isn't expecting you to be perfect; very few people are – especially in a high-pressure test environment!
We'll run through the most common faults made during a driving test, how you can avoid them, and what you can expect to happen if you make one.
Types of fault
There are 3 types of fault you can make during your driving test:
Driving fault – also known as a minor, this isn't potentially dangerous, but it could become a serious fault if repeated.

Serious fault – also known as a major, this has the potential to cause danger.
Dangerous fault – also known as a major, this involves actual danger to you, the examiner, the public

,

or property.
Driving test marking sheet
Your driving examiner will fill out a marking sheet during your test, and you'll get a copy of it at the end. This is what the examiner uses to make their decision. We know it looks a bit scary with all those fields, but it's basically just a list of all the categories you'll be marked on. This is exactly what you've prepared for, you've got this.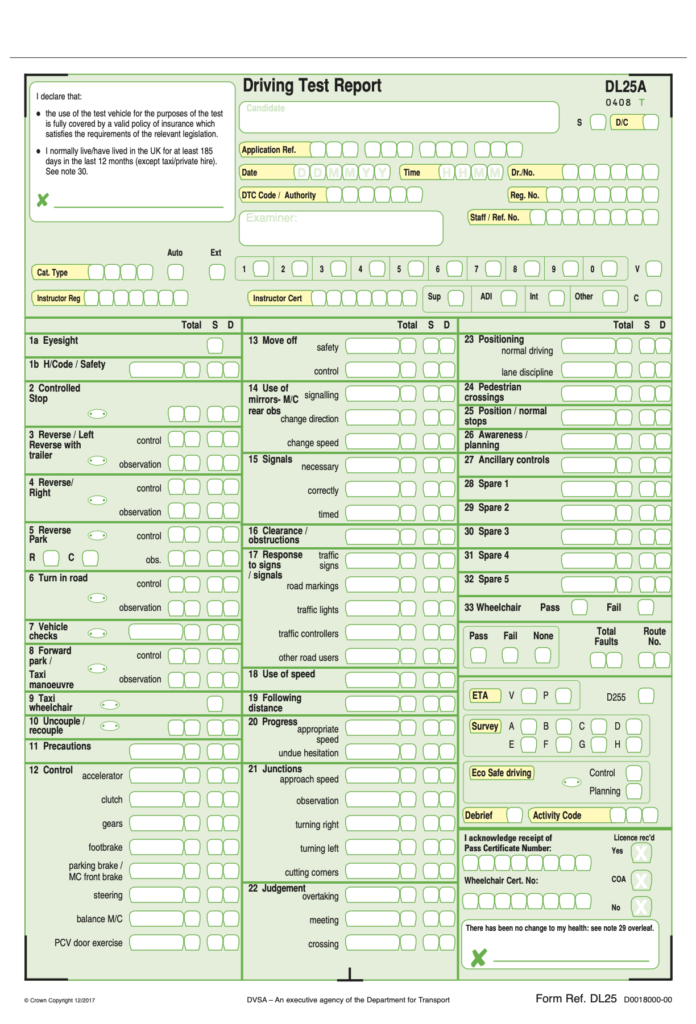 Common driving test faults
1. Observation at junctions
You'll need to show awareness of any hazards when approaching a junction, and prove you can pull onto a new road safely. If you don't recognise potential hazards, it could cause danger to you or others and land you with a minor or major fault on your test. 'Mirror-signal-manoeuvre' will be key here!
2. Mirrors – changing direction
Using your mirrors properly will make driving safer and smoother. They should be used before any manoeuvre, such as changing speed, switching lanes, and to check on the space around you.
Did you know that failing to check your mirrors before changing direction is a common reason drivers don't pass their test? That's why exaggerating your mirror checks is one of our top 10 tips to pass your driving test first time. Make sure to use both the wing-mirrors and the rear-view mirror to check on the space around you, other vehicles, cyclists, and pedestrians before turning.
3. Control – steering
Follow the curb smoothly, but try not to get too close! To avoid a major driving test fault, keep your hands at 10 to 2 for good control of the wheel. This will help to keep you on a steady course.
4. Junctions – turning right
Driving examiners like to get this in there as a tricky manoeuvre. Take it slow and use your mirrors before signalling. You'll need to make sure the lanes are clear of cyclists and pedestrians, as well as cars, before pulling out onto the road.
5. Moving off safely
During your test, you'll be marked from the get go, so checking your blind spot before moving off will steer you in the right direction. You may also be asked to move off at another point in the test, either way it's a given and could be crucial to your success! Checking your blind spot will help to take care of cyclists and pedestrians.
6. Moving off – control
Showing you're in control when moving off involves a few different things. You don't want to move off while the hand brake is up for example, or roll backwards if you're on a hill. Likewise, be careful to avoid stalling the car. We know it's every learner's worst nightmare to stall during the test, but if it does happen, don't panic. In most cases, you'll only get a minor fault for stalling.
7. Response to signs – traffic lights
Driving through a red light is classed as a major fault, but there are other things to look out for too. Think outside the box.. Stopping inside the yellow box will block off other road exits and could mean you'll fail the test. If you're going to drive over it, make sure there's enough room between you and the car in front. Other things to keep in mind are, staying behind the stop line and not waiting too long at a green light.
8. Response to signs – road markings
Show the examiner you're paying attention to road markings. Don't get caught out by switching lanes over a double white line and make sure you're following the lane direction arrows. Your theory test will help with this!
9. Positioning – normal driving
Your car should stay in the middle of the lane markings, or slightly to the left if it's a wider road. Remembering the 2 second rule when it comes to the car in front will help you ace this part of the test too.
10. Reverse park – control
You'll have to complete 1 of 3 parking manoeuvres during your test and reverse bay parking or parallel parking are tricky even for experienced drivers. The examiner will be looking out for observation, control, and accuracy, so try to avoid needing to reposition the car after you've parked. Keep checking on pedestrians, approaching cars, and the curb.
11. Driving test minors
A minor fault isn't potentially dangerous to you or your surroundings. For example, you could pick one up for missing one of the examiner's directions, or touching the curb gently while carrying out a manoeuvre. The examiner will decide how to mark the fault, but your driving instructor will have prepared you to know what to look out for.
Not got an instructor yet? Check out the 6 things to think about when choosing a driving instructor.
How many minors can you get in a driving test?
You can get 15 minors and still pass your driving test. However, you'll fail the test for getting 3 minors in the same category.
Major faults in a driving test
Both serious and dangerous faults are classed as major and making one of these will mean you'll fail the test. Here's a few major faults to look out for:
D

riving too

slow and not

following

the speed limit

P

ulling onto a road when it's not safe to do so
M

ounting or driving into the curb forcefully
You'll still have to complete the test if you make a major fault, and you won't find out if you've failed until the end. Ultimately, it's up to the examiner to decide whether a fault is marked as a major or not.
Can you fail your driving test for stalling?
You might not believe it, but stalling the car doesn't mean you'll instantly fail your test. It's likely you'll only pick up a minor fault. Whether it leads you to fail depends on how it happened, how many times, and how you responded. So keep calm and try not to panic.
To get the car moving again, press the brake before switching the engine back on, and make sure to check your mirrors and blind spot before driving off. Remember that the handbrake should be used as a precaution if you stall on a hill.
How to avoid driving test faults?
Most of these faults can be avoided by having good observation whenever you're driving, parking, or carrying out a manoeuvre. Remember that, by the time you sit your test, you'll have had plenty of time on the road, either with your instructor or practising with family or friends, so don't panic, stay calm, and take your time.
If you do fail your driving test, try not to be too hard on yourself. The practical driving test is really tough. On the plus side, you'll know exactly what to expect next time. Here's our tips on what to do next if you fail your driving test.
If you're worried about your driving test, it might be a good idea to get in some practice with a friend or family member. Make sure you're covered with learner driver insurance before getting behind the wheel.