Christmas is just around the corner and Santa's elves will soon be giving his sleigh the final preparations for the big day itself.
However, while Santa Claus is a man of many mysterious magic powers, the rules apply to him just the same as everybody else, which means that before he sets off on his journey to deliver presents to billions of children around the world, he has to make sure his vehicle is properly insured!
Seeing as he'll be back at the North Pole in just 24 hours, temporary car insurance is the perfect solution – scroll down to see just how much it would cost to insure Santa's sleigh?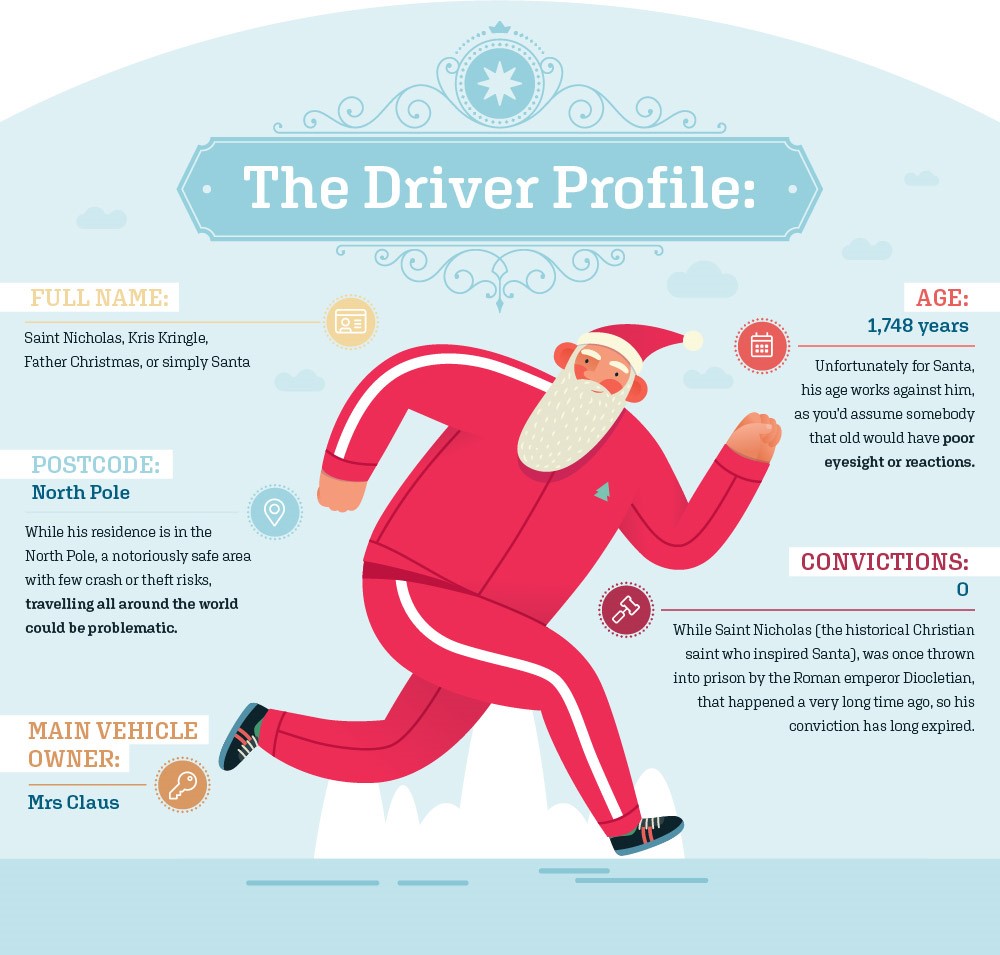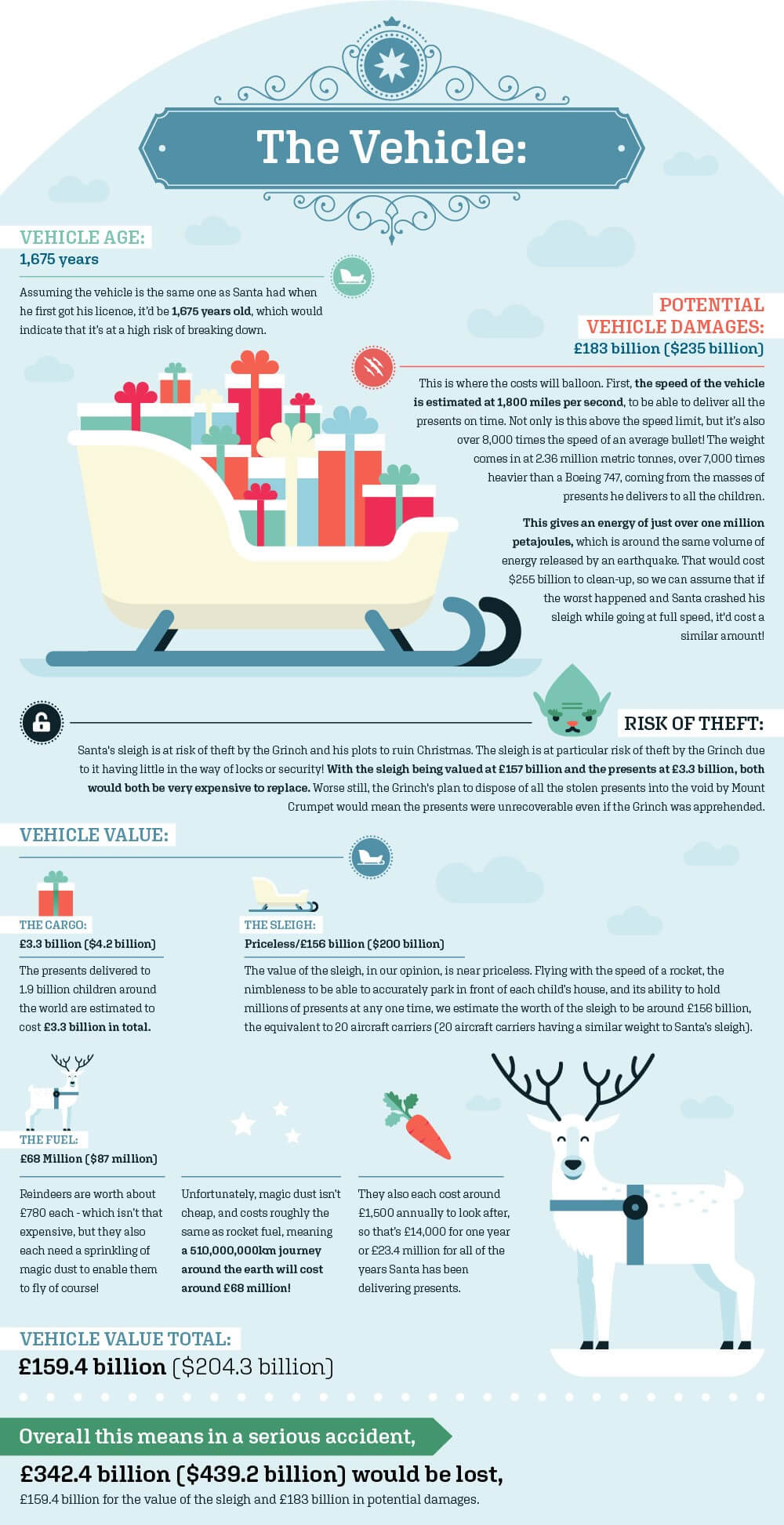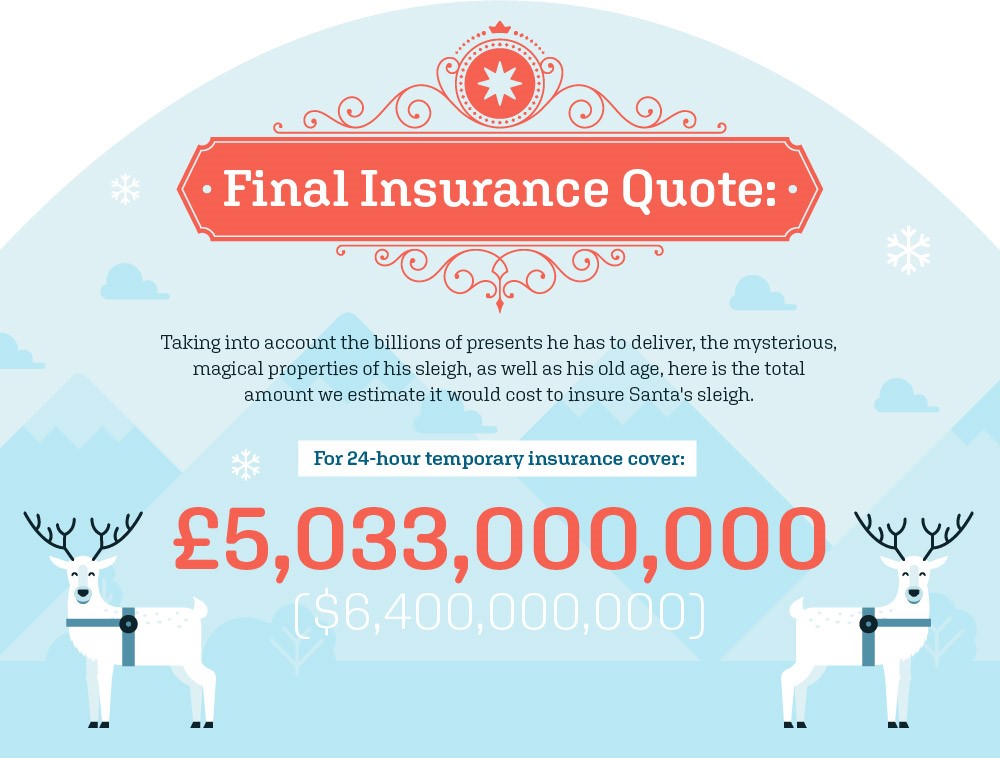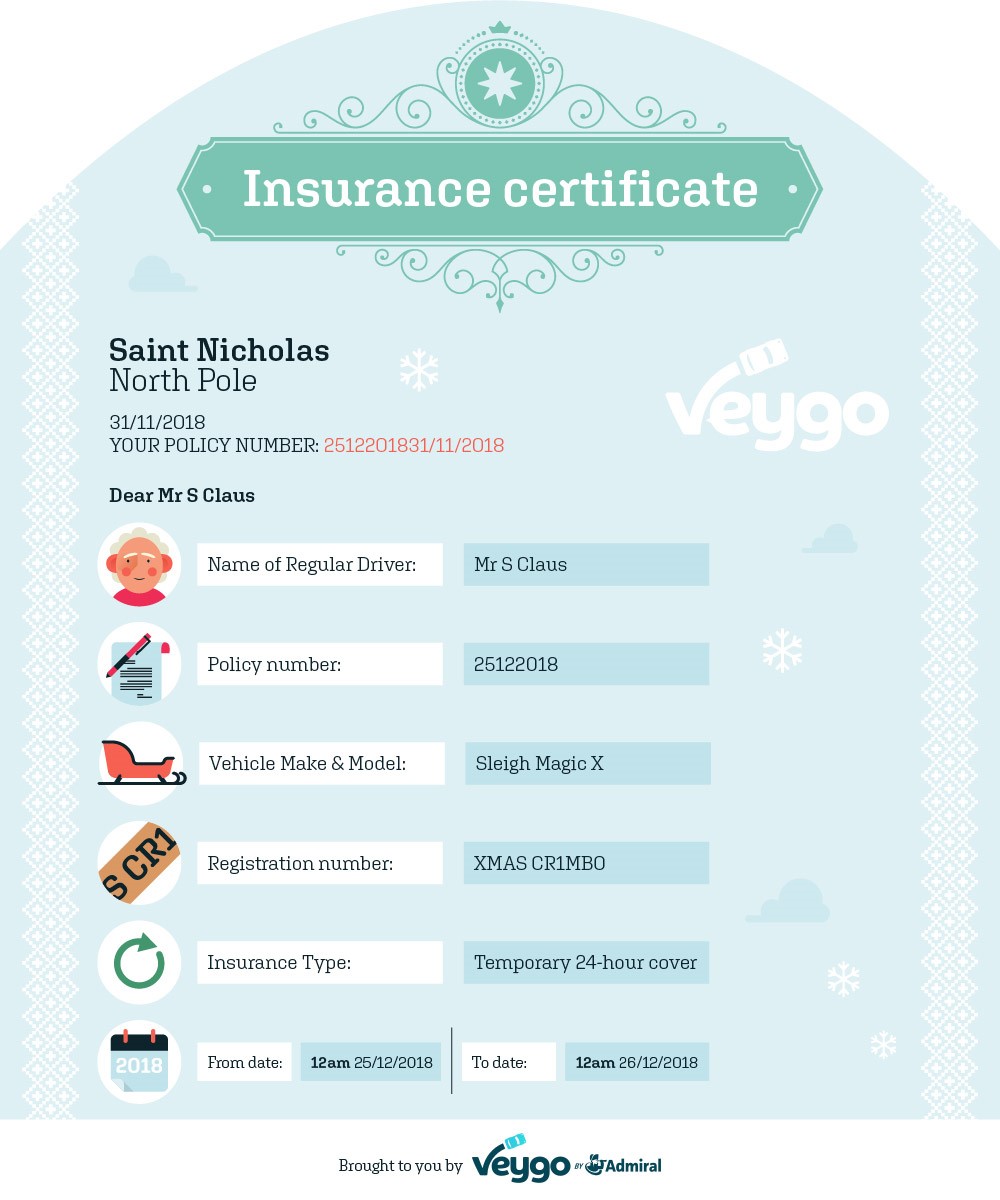 The Driver Profile:
Full Name: Saint Nicholas, Kris Kringle, Father Christmas, or simply Santa
Age: 1,748 years
Unfortunately for Santa, his old age works against him, as you'd assume somebody that old would have poor eyesight or reactions.
Postcode: North Pole
While Santa's residence is in the North Pole, a very safe area with no other drivers around to crash into, him travelling all over the world will be problematic.
Convictions: 0
While Saint Nicholas (the historical Christian saint who inspired Santa), was once thrown into prison by the Roman emperor Diocletian, that happened a very long time ago, so his convection has long expired.
Main vehicle owner: Mrs Claus
The Vehicle:
Vehicle age: 1,675 years
Assuming the vehicle is the same one as Santa had when he first got his licence, it'd be 1,675 years old, which would indicate that it's at a high risk of breaking down.
Vehicle potential damages: £183 billion ($235 billion)
This is where the costs will balloon. First, the speed of the vehicle is estimated at 1,800 miles per second, to be able to deliver all the presents on time. Not only is this above the speed limit, but it's also over 8,000 times the speed of an average bullet! The weight comes in at 2.36 million metric tonnes, over 7,000 times heavier than a Boeing 747, coming from the masses of presents he delivers to all the children.
This gives an energy of just over one million petajoules, around the same volume of energy released by an earthquake. That would cost around $255 billion to clean-up, so we can assume that if the worst happened and Santa crashed his sleigh while going at full speed, it'd cost a similar amount!
Risk of theft:
Santa's sleigh is at risk of theft by the Grinch and his plots to ruin Christmas. The sleigh is at a particular risk of theft by the Grinch due to it having little In the way of locks or security! With the sleigh being valued at £157 billion and the presents at £3.3 billion, both would be very expensive to replace. Worse still, the Grinch's plan to dispose of all the stolen presents into the void by Mount Crumpet would mean the presents were unrecoverable even if the Grinch was apprehended.
Vehicle Value:
The Cargo: £3.3billion ($4.2 billion)
The presents delivered to 1.9 billion children around the world are estimated to cost £3.3 billion in total.
The Sleigh: Priceless/£156 billion ($200 billion)
The value of the sleigh in our opinion is near priceless. Flying with the speed of a rocket, the nimbleness to be able to accurately park in front of each child's house and its ability to hold millions of presents at any one time, we estimate the worth of the sleigh to be around £156 billion, the equivalent to 20 aircraft carriers (20 aircraft carriers having a similar weight to Santa's sleigh).
The Fuel: £68 Million ($87 million)
Reindeer are worth about £780 each – which isn't that expensive, but they also each need a sprinkling of magic dust to enable them to fly of course!
Unfortunately, magic dust isn't cheap, and costs roughly the same as rocket fuel, meaning a
510,000,000km journey around the earth will cost around £68 million!
They also each cost around £1,500 annually to look after, so that's £14,000 for one year or £23.4 million for all of the years Santa has been delivering presents.
Vehicle Value Total: £159.4 billion ($204.3 billion)
Overall this means in a serious accident, an estimated £342.4 billion ($439.2 billion) would be lost.
£159.4 billion for the value of the sleigh and £183 billion for potential damages.
Final Insurance Quote:
Taking into account the billions of presents he has to deliver, the mysterious, magical properties of his sleigh, as well as his old age, here is the total amount we estimate it would cost to insure Santa's sleigh:
For 24-hour temporary insurance cover: £5,033,000,000 ($6,400,000,000)