Many people choose to get the train when travelling long distances rather than driving, largely due to the fact that it's often quicker and less stressful than dealing with congestion. However, a significant number of train travellers will use their car to get to the station, and the cost of parking for the day can sometimes be shockingly high. We wanted to find out just how much it costs to park at train stations across the UK and just where comes out as the cheapest and most expensive. Our research looks at the daily parking rate at the UK's busiest train stations* and found that there is a huge variation in pricing. *Only stations with their own car park were included in the research. Depending on where you are travelling from, the cost of parking for just one day could be as high as £40, however, we also found that some stations offer completely free parking for rail passengers!
Top 10 Most Expensive Station Car Parks in the UK (outside of London)
The research found that the most expensive parking, outside London, is at Reading Station, with costs of £25 per day. It's bad news for motorists in Glasgow too, as Glasgow Central charges just £1 less for the day.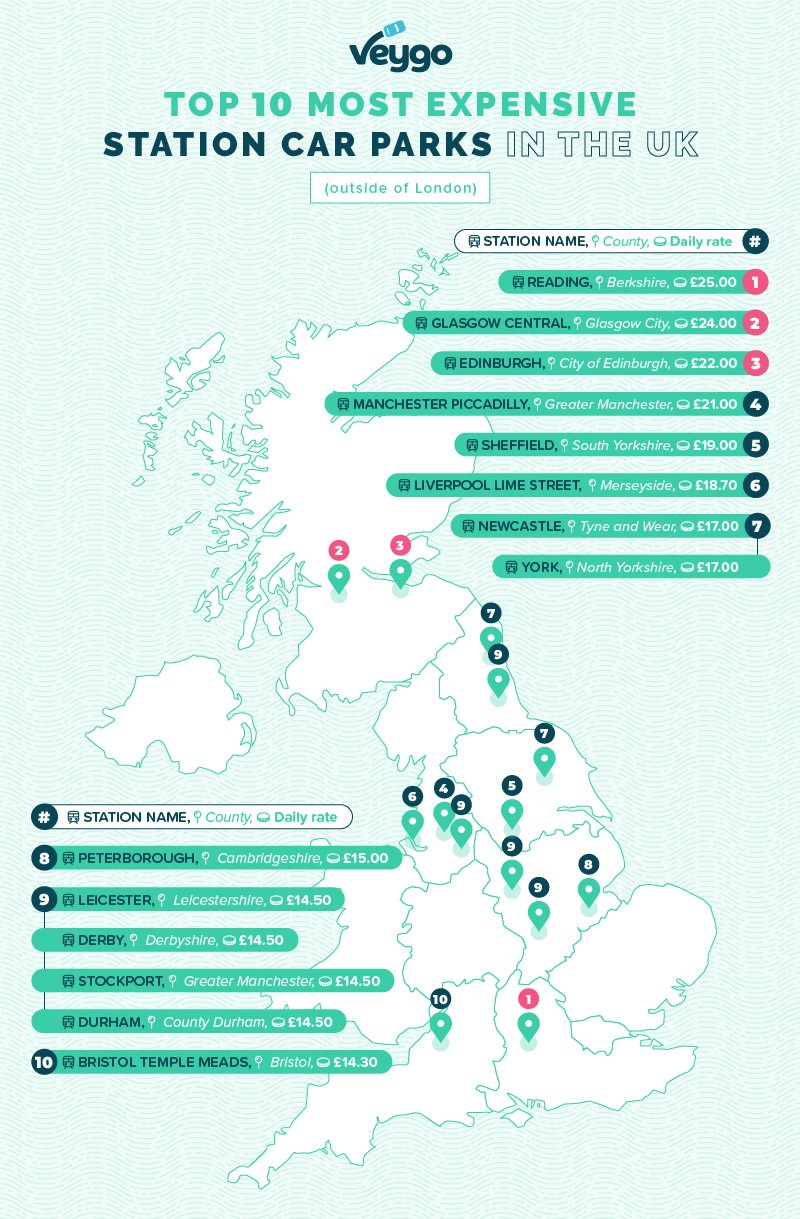 Top 10 Most Expensive Station Car Parks in London
Those parking in London will find themselves forking out a staggering amount for parking, in fact, it could cost up to £40 – the day rate at St.Pancras/King's Cross. The cheapest station car parking in London is as steep as £7. The London travellers willing to hop on another train or tube could save extra pennies by parking further out of London's centre.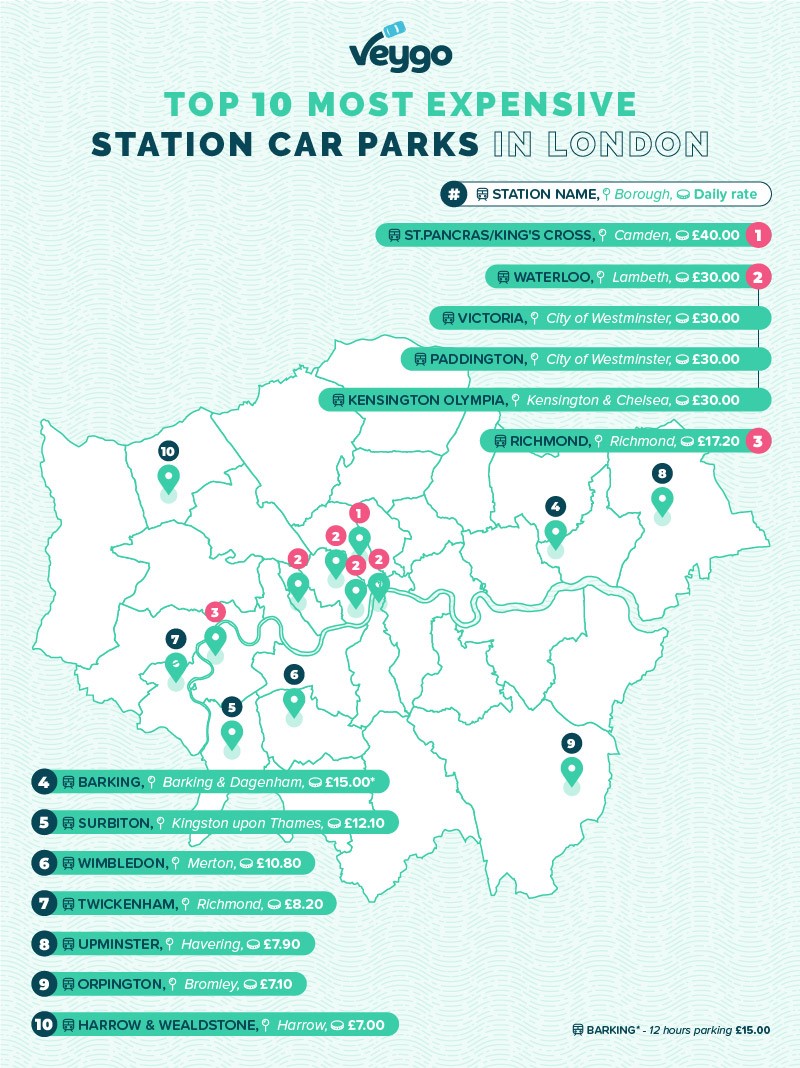 The Price of Station Parking in the UK – Ranked (outside of London)
Outside of London, some stations offer free parking for rail users, namely Selly Oak and Kirkby (Merseyside). On the other hand, other stations such as Benfleet in Essex and Paisley Gilmour cost £2.40 and £3 respectively for the whole day. From Berkshire (Reading Station) to Essex (Benfleet Station), there are less than 100 miles, however, the daily parking costs rise by £22.60.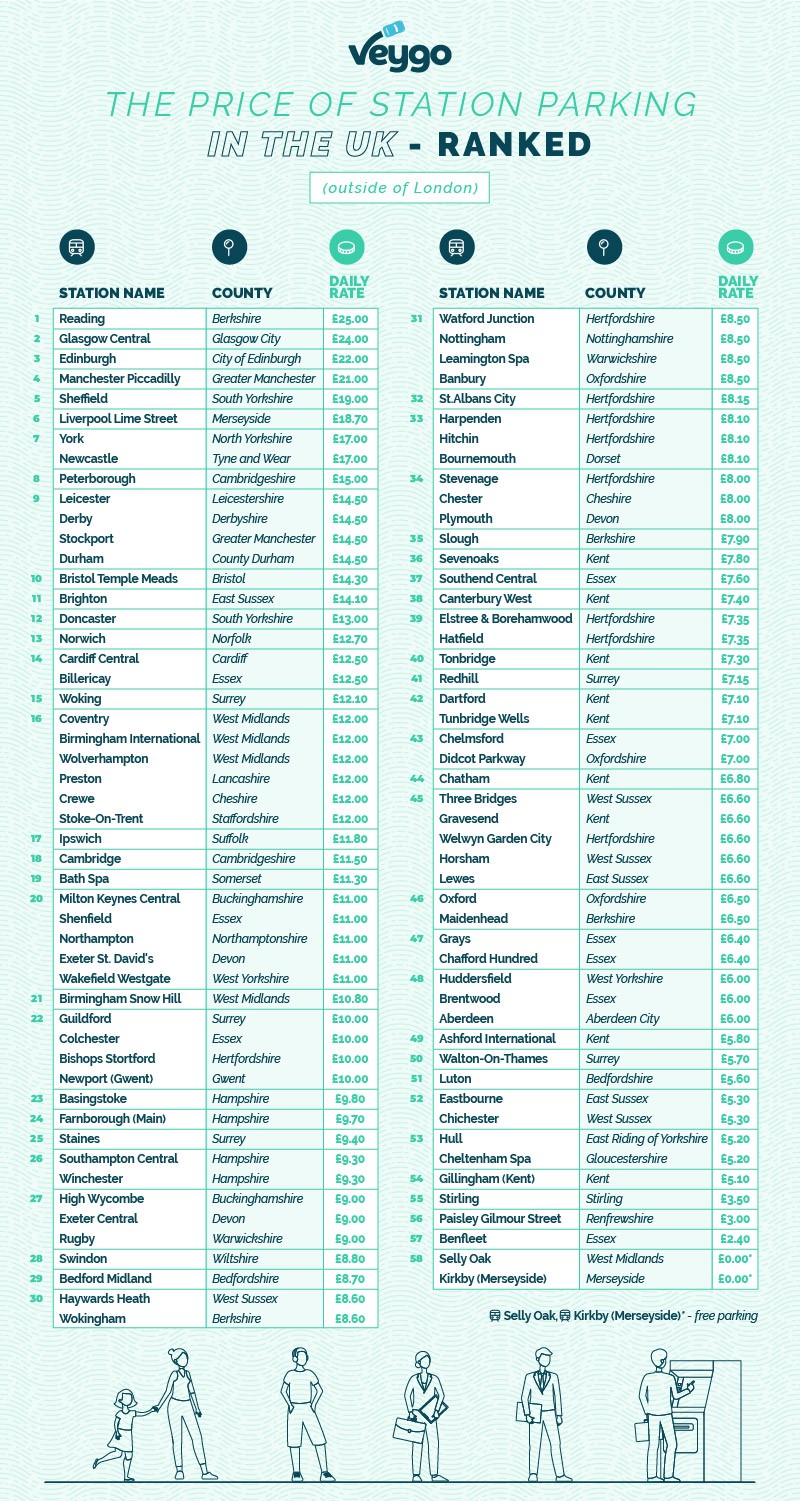 The Price of Station Parking in London – Ranked
Not everywhere in London charges the earth for train station parking, with Norwood Junction costing a mere £4 per day, and Forest Hill and Hayes & Harlington charging a reasonable £5. Croydon and Camden are less than 14 miles apart, however, there is a £36 difference between the two stations daily rates. London travellers could save money by parking the 14 miles further away and hopping on an extra train or tube.
If you're trying to decide on how to get from A to B, it might be worth taking a look at our
car sharing insurance
or
car rental
options.
Methodology
We used
Office of Rail and Road statistics
data on the busiest train stations in the UK as the source for our list of stations to use. We took the top 100 stations outside of London that had their own car parks, and the top 30 in London with their own car parks. We then took the daily rate for parking from the
National Rail
page for each station where available. In some cases the prices were not available on the National Rail site, so prices were taken from the car parking operator website instead. Please see the full list of sources below.
Sources
https://dataportal.orr.gov.uk/
https://www.nationalrail.co.uk/
https://www.apcoa.co.uk
https://stpancras.com
https://www.parkme.com/
https://www.sabaparking.co.uk
https://www.ncp.co.uk/
https://www.networkrail.co.uk/
https://www.scotrail.co.uk
https://www.southernrailway.com
https://www.gwr.com
https://www.q-park.co.uk/
https://www.northernrailway.co.uk
https://www.greateranglia.co.uk
http://www.stevenage.gov.uk