What are windscreen pillars?


If you're learning to drive you may have seen some potential theory test questions related to windscreen pillars. If you've stumbled upon this article, you're probably wondering "what are windscreen pillars?" and we're going to answer that for you. Plus, we'll run through the potential theory test questions and how to answer them.
What are windscreen pillars?
Windscreen pillars are the upright posts that frame your windscreen. Sometimes referred to as 'A' pillars, windscreen pillars are there to reinforce the windscreen and hold it in place.
Most cars have 3 pillars, known as A, B and C. Some bigger cars even have a fourth 'D' pillar. The windscreen pillars (A) are located at the front of the car.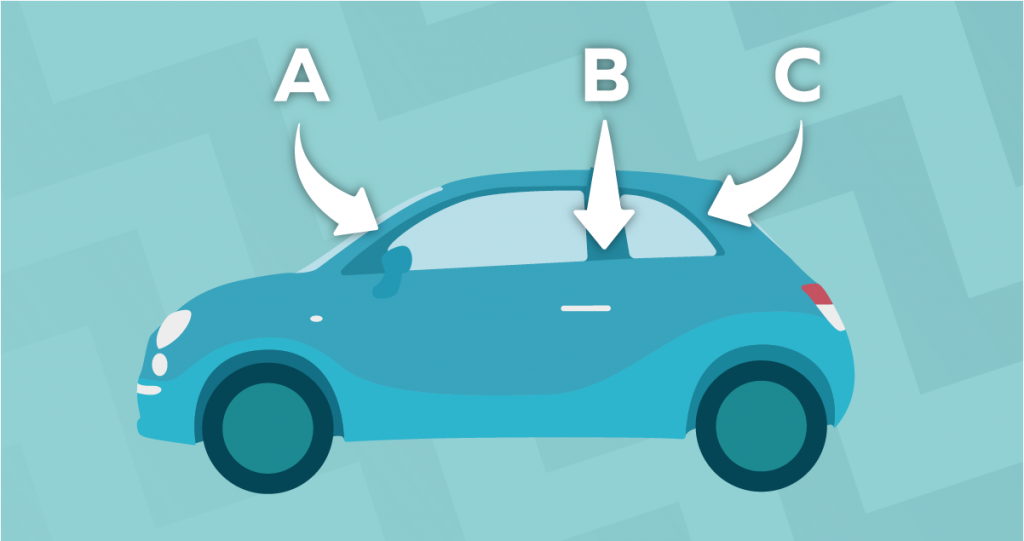 Can windscreen pillars cause accidents?
In modern cars, windscreen pillars are generally wider than they used to be. Especially in big cars like minivans and SUVs. That's because as cars get bigger and heavier, car manufacturers need to increase the structural integrity of the car. To get more structure and support, bigger windscreen pillars are often used.
However, this design can be potentially dangerous by blocking the driver's view. Some motorists have blamed windscreen pillars for causing accidents due to the blind spots created. The problem has been recognised by the industry with car brands such as Continental creating 'see-through' A pillars.
If you're driving someone else's car, it's important to figure out where the potential blind spots are. That way you can check your bling spot by moving your head to look around the pillar before turning.
When do windscreen pillars cause obstruction?
Windscreen pillars cause the most obstruction when driving on bends, roundabouts and junctions. That's because other road users can be hidden from view when you're turning. This can particularly be an issue with pedestrians and cyclists because the blind spot impacts a narrow field of vision.
If you're answering this question on your theory test, remember that turning is what causes the most severe obstruction. It's less of an issue when you're driving on a straight road, for example when you're driving on the motorway or approaching a one-way street.
Learning to drive?
If you're learning to drive, you might find it helpful to get some extra practice outside of your lessons. With our learner driver insurance, you could get cover on your own car or borrow one from a friend or family member.
It's totally flexible and you can be on the road in minutes! If you borrow a car from a friend or family member, make sure you check where the blind spot is from the windscreen pillars on their car as every car is different.