Learning to drive is HUGE… and a rite of passage for people, whether you've just turned 17 or coming to it later in life, those pre-test nerves and that sense of achievement when you pass your test is a pretty exciting time, right?
The journey of building up your confidence and driving skills until you're ready to take that all-important test can be a roller coaster, but the feeling when you can finally rip up those L-plates makes it all worth it.
But what's it like for those learning to drive privately in 2021? We've jumped into the numbers of people taking out learner driver insurance here at Veygo, as well as a survey to talk to people around the UK, to find out.
The areas with the most private learner drivers
If you want to learn to drive with a friend or family member or maybe just want to get in some extra practice outside of your scheduled lessons, then you need to get learner driver insurance to drive in their vehicle, but where in the country are the highest number of people looking to learn privately?
Below, we've looked at the number of people buying learner driver insurance in the UK's biggest towns and cities, to see which have the highest numbers of learners per 100,000 people.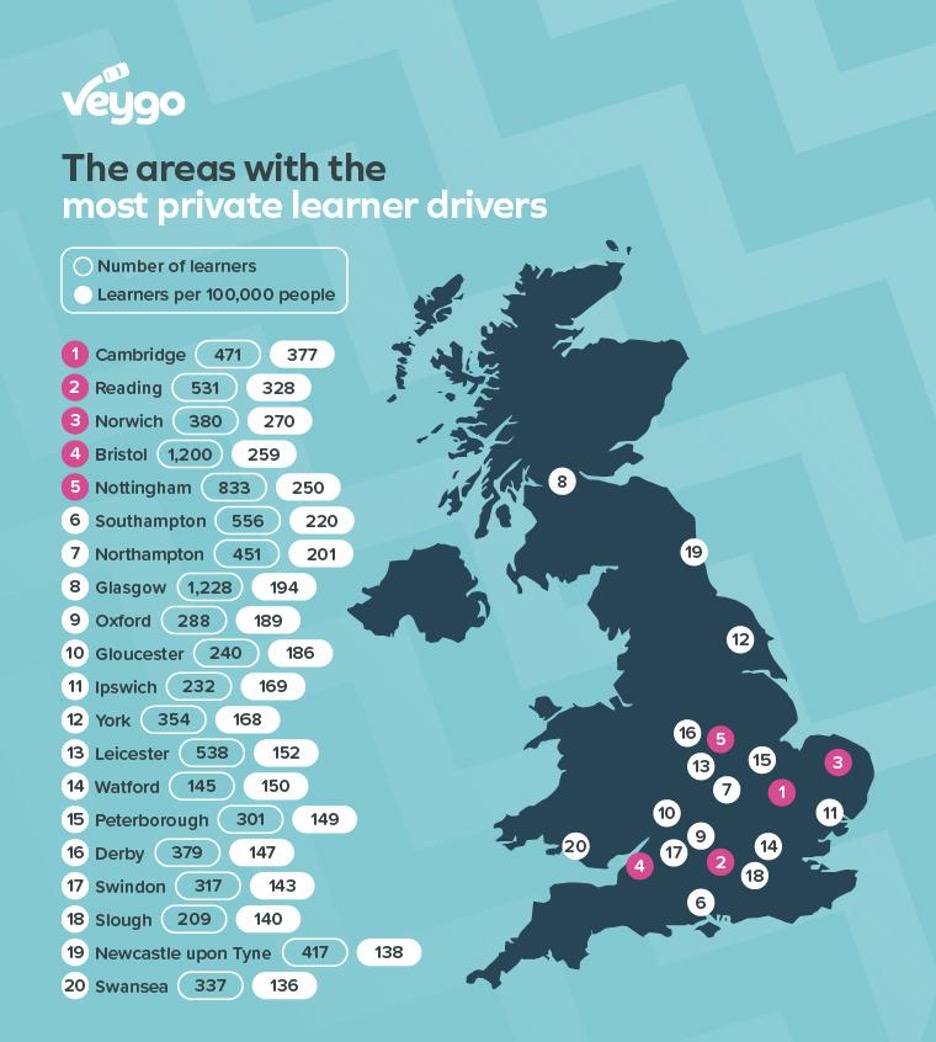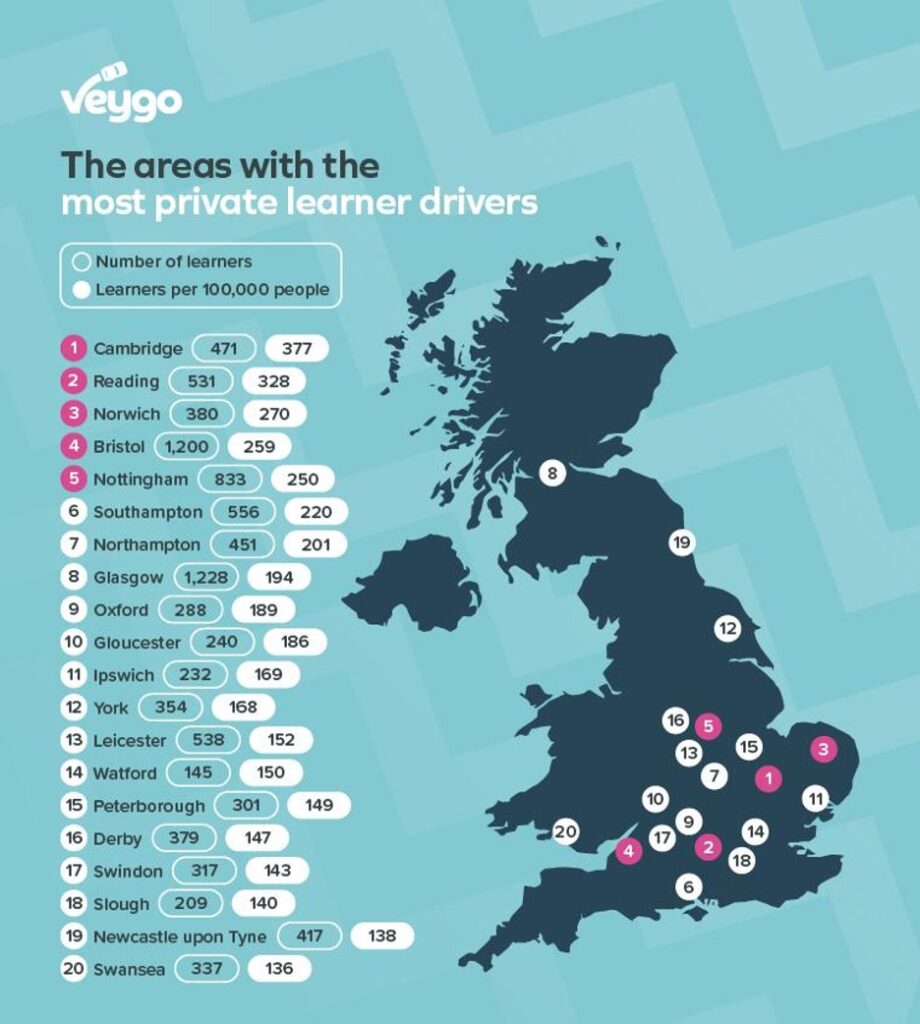 While London had the highest number of private learners overall with 2,730 (no surprises there), when we take the size of each place into account, it was Cambridge which had the highest rate of people choosing to learn privately, with 377 per 100,000 people in the city, followed by Reading (328 per 100,000) and Norwich (270 per 100,000).
Most common cars to learn to drive in
The car that you learn to drive in is really important to your journey, whether you're borrowing from mum or dad, using the instructor's car, or are lucky enough to have your own car ready to go for when you pass your test.
If you fall into one of these categories, then the chances are that the car you'll be learning to drive in won't exactly be your dream car or one of the fastest cars on the road, but even some of the cheaper cars on the market offer a reliable entry-level experience for learners.
Looking into the stats, the car that more people insure for learning to drive in than any other was the Ford Fiesta, which makes sense, as one of the best all-round options available, which is nice and easy for new drivers to drive and practice that reserve parking.
This was followed by popular and all-rounder cars, such as the Vauxhall Corsa, Volkswagen Polo and Volkswagen Golf.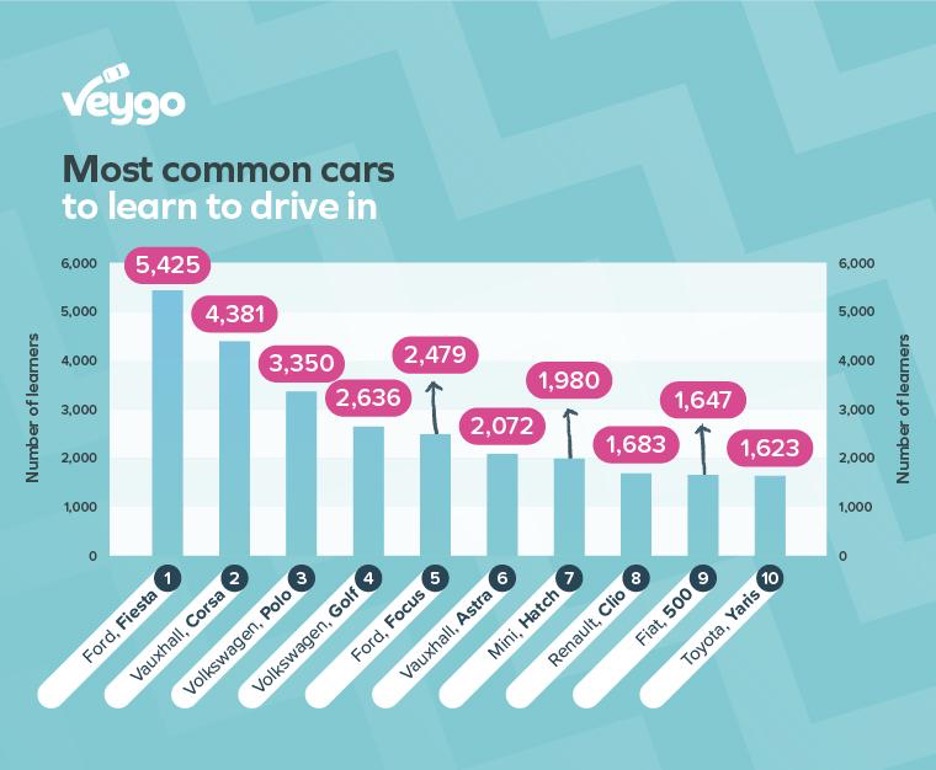 When is the best time to learn to drive?
There are many things that come into play when it comes to being successful in your driving test, primarily how many lessons you've had and how well prepped you are but could the time of year that you take your test make a difference?
It's difficult to say, but the numbers certainly show that learners seemingly have a preference to learn to drive later in the year, with September being the most common month for those applying for learner driver insurance (11.7%), followed by October (11.5%) and November (10.8%).
However, in the spring and summer months, the numbers of people looking to learn to drive are much lower, with as few as 2.7% choosing to start learning in April.
These figures are a little surprising, as you'd think that people would be reluctant to learn to drive when the days are shorter, weather conditions are worse, and roads are often quieter, although perhaps it's better to throw yourself in at the deep end and ensure that you're truly prepared for winter driving by the time it comes to take your test.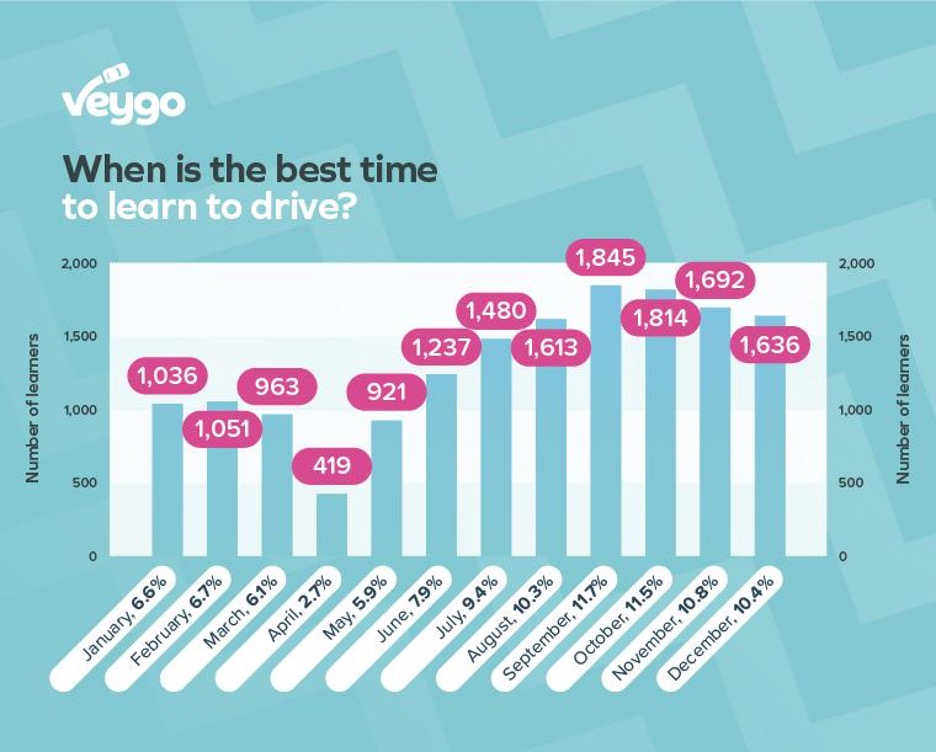 Who are people most likely to be taught by?
If you decide that learning privately is the way to go, your next big decision is who exactly you want to be taught by… and who is willing to teach you!
Over three-quarters of people we surveyed who learned with someone other than an instructor said that they did so with their parents, with dads being the most common alternative driving instructors (44.1%).
Just 5% were willing to learn with a friend and even fewer people learned to drive with their partner (4.9%) or spouse (1.3%), perhaps out of fear for the potential arguments that it could cause!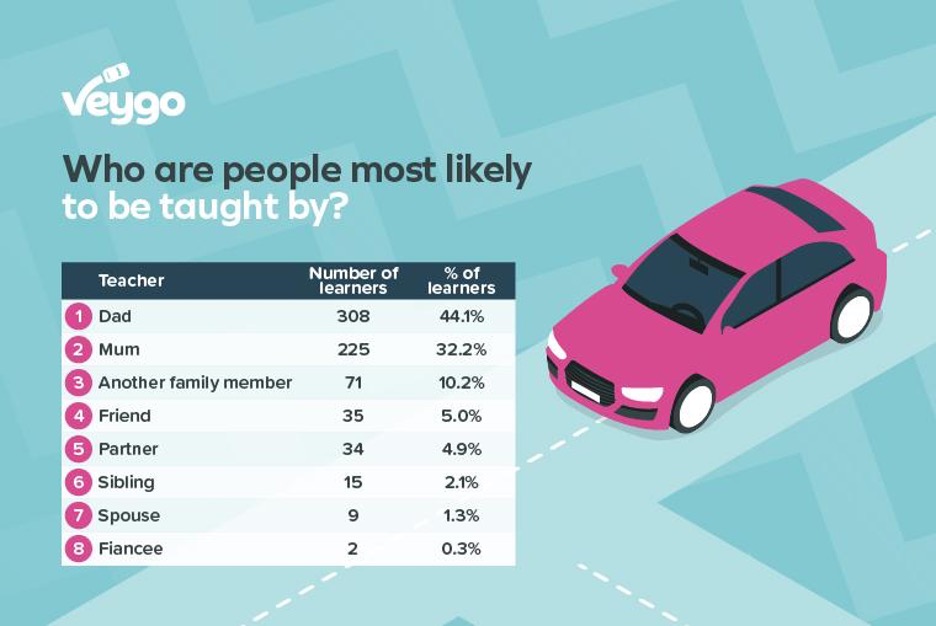 The hardest parts of learning to drive privately
While there are many benefits of choosing to learn to drive privately, it also brings with it a lot of challenges too. In fact, the most common thing that people highlighted in our survey was that when they learned privately they'd have arguments with the person they're learning with (usually their parents!).
Other common things which people found hard about learning to drive privately include the lack of professional advice (13.5%) and the lack of time (7.5%).
However, perhaps the most surprising thing was that the majority (52%) of learners actually said that they didn't argue at all.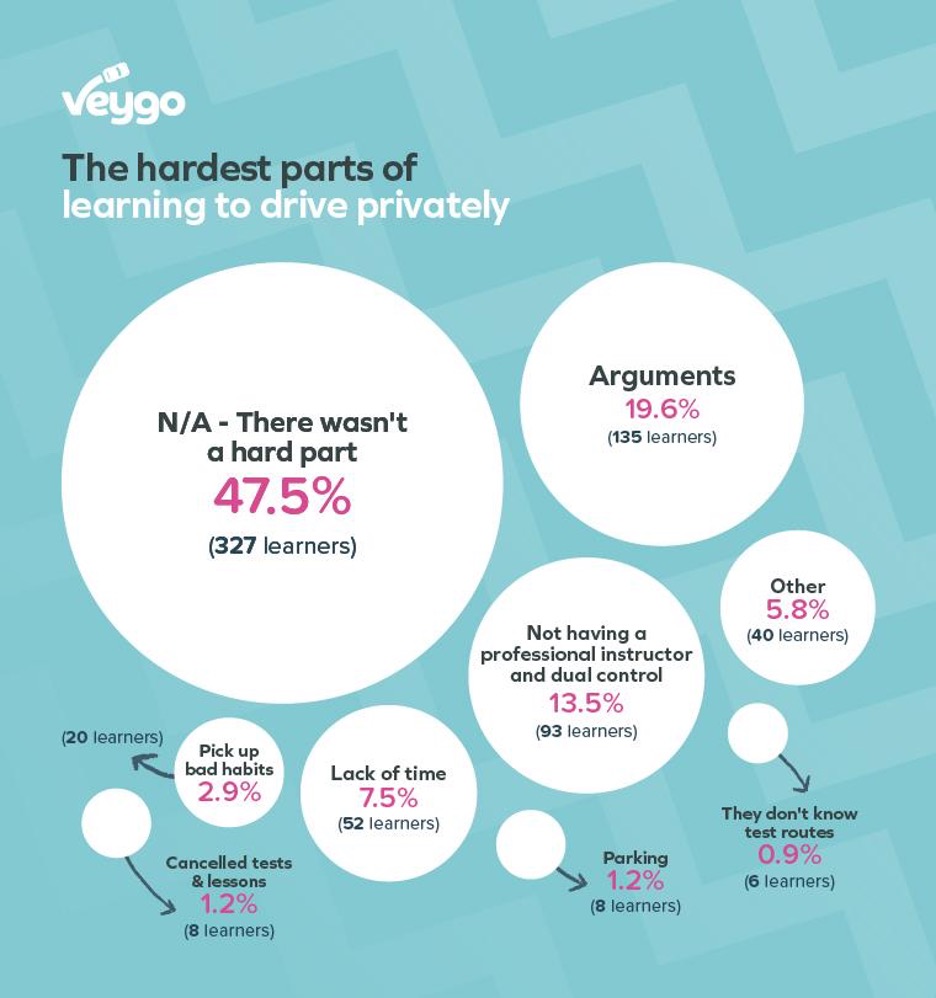 The most common causes of arguments when learning to drive privately
Drilling down a bit further into the kinds of things which cause arguments between private learners and those willing to teach them, it seems that the most common cause of friction was a simple breakdown in communication, with 14.7% citing it as a cause of arguments.
Another downside of learning with a friend or family member is that they're not as likely to show as much patience as a professional, as we can see through the fact that 11% of people would end up having arguments over mistakes that they made while learning.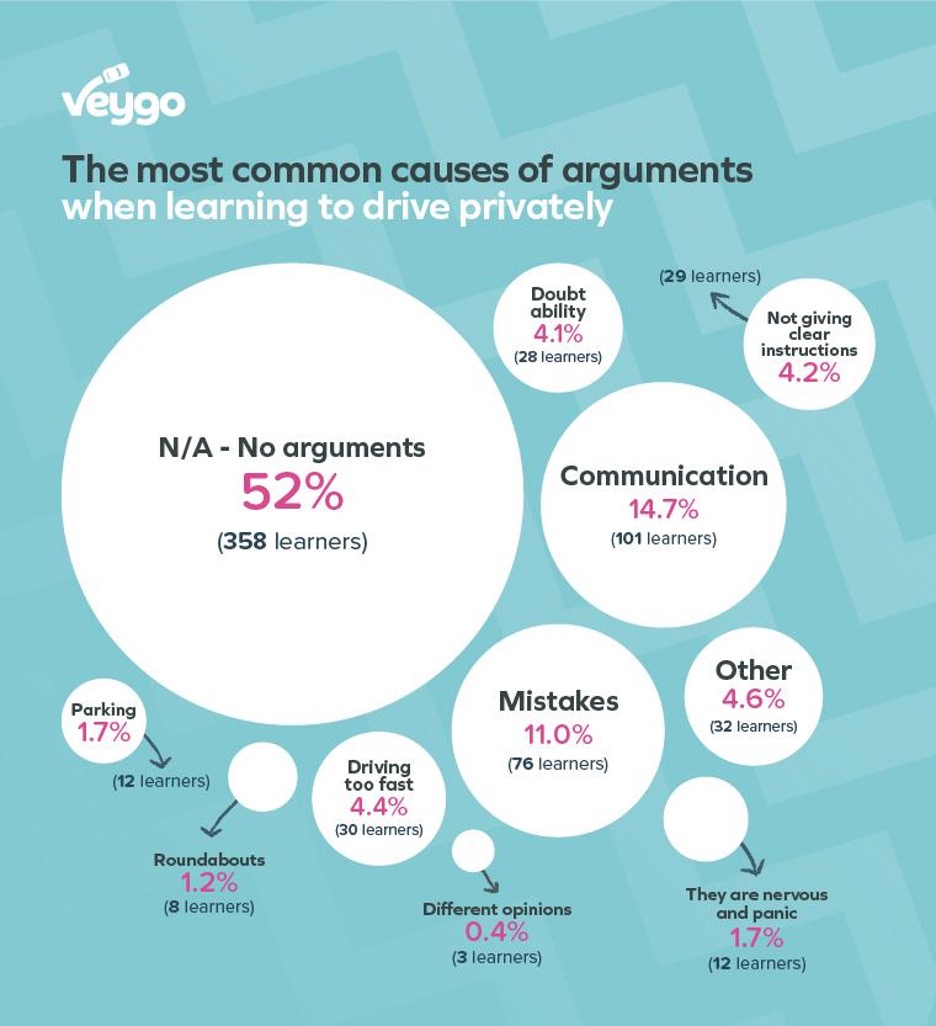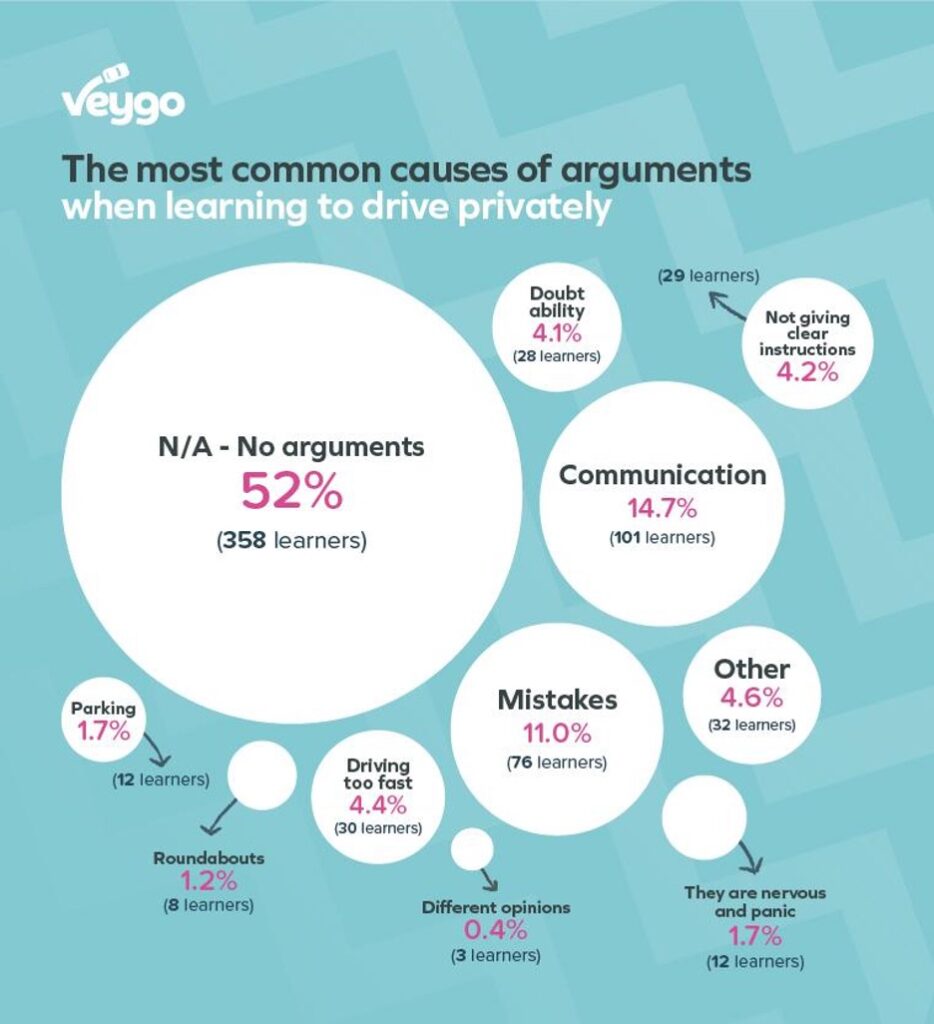 How much does it cost to learn to drive?
Learning to drive isn't just a case of paying for a few lessons, you also need to take into account other costs such as registering for your licence and paying for your test and it can quickly add up.
So, on average, how much does it cost to learn to drive? Well, the first thing you need to do is apply for a provisional licence, which costs £34 when applying online (£43 by post).
The bulk of the expense comes from the driving lessons themselves, which will obviously vary depending on how many you take and the cost in your local area.
Driving lessons tend to cost between £25-£30 per hour so we've assumed a cost of £27.50, and it's recommended that you take 45 hours of lessons (and a further 22 hours of practice), which works out at a cost of £1,237.50 for your lessons alone.
Next up are the actual tests. The theory test comes first and costs £23 to book, before the final step, the practical test.
This costs either £65 on a weekday or £75 if you'd rather take your test at the weekend, which brings our grand total to £1,357 (or £1,370 at weekends).
Methodology
All information based on a combination of data from people who took out learner driver insurance with Veygo in 2020, including a survey of 688 Veygo customers.
To estimate the cost of learning to drive, we added together the cost of a provisional licence online (from GOV.UK), the cost of both the practical and theory tests (also from GOV.UK), as well as an estimated cost of driving lessons, which was based on lessons costing £27.50 per hour (based on the estimate that lessons usually cost between £25 and £30 per hour, according to this article from the Independent), and the recommendation that you take 45 hours worth of lessons before taking your test.
Learner driver report
Check out the 2020 Learner Driver Report here.