It's easy to tell when a learner driver is on the road from the L plates on their cars, but you might see different plates, like we did once upon a time, and wonder what they mean. You also want to make sure you know the rules around them properly before you get going so you're not caught out. We thought it would be a good idea to go through some commonly asked questions about L plates, P plates and T plates to get you started.
What are L plates?
L plates or 'learner plates' are placed at the front and back of a car to show other people that a learner driver is in control, and it's kind of a nice thing to just give them some more space and be a little more patient. Legally, you need to have plates on display all the time and you can receive up to six points and/or a fine if you don't. It's not worth it when they only cost a fiver from halfords.
What are P plates?
P plates or 'probationary plates' tell everyone else behind the wheel that you're new to the road and can sometimes give you a break from the nasty tailgaters because they let others know that you've just passed. In the UK they're usually a green 'P' with a white background.
What are T plates?
Recently T plates have also appeared which tell drivers that you have a telematics policy or 'black box' so you'll be charged on your driving style. It's impossible to tell if someone's got a black box in their car, and experienced drivers can put a lot of pressure on black box drivers if they don't know about it. Having T plates will hopefully cut you a little bit of slack out there. T plates are usually a blue 'T' with a white background.
What are D plates?
These plates aren't used in England, Scotland or Northern Ireland, but if you're in Wales, you can display either L or D plates, which stands for 'dysgwr', the Welsh word for 'learner'. If you're doing a road trip out of Wales and have D plates on, once you cross the border, you'll need to swap them out for L plates so don't forget to grab some before you head off.
L plate rules
Your L plate needs to have a red 'L' and a white background. You can round off the corners if you're feeling a bit fancy but make sure it's the right size otherwise you can get points or a fine. Not so fancy.
Once you've got your plates sorted, you can tick off a box on your learning to drive checklist.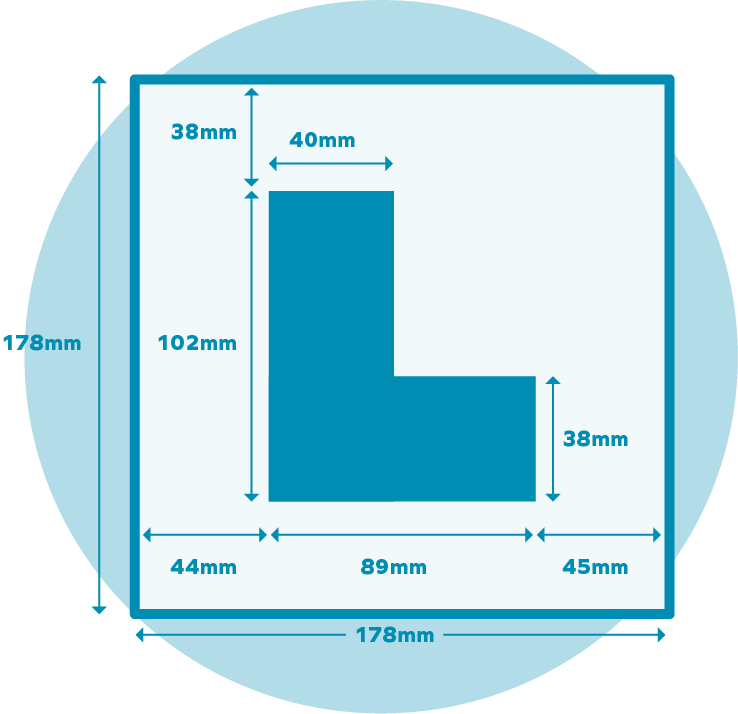 Where to buy L plates
Magnetic L plates
You can get different types of L plates, but the most popular are magnetic L plates. The plates with a full magnetic back work best on flat surfaces and the ones with strips on the back work best on more curved surfaces.
Sticky back L plates
Self-cling or sticky back L plates might be better for plastic or aluminium cars. Just be careful when removing sticky back L plates, they can damage your car's paintwork.
Self-cling L plates can also get in the way of your view because they have to be stuck to your window, so it might be best to use them as a last resort.
Printable L plates
If you want a printable L plate instead, you can download a version here and you can download printable P plates here but check the dimensions when it prints. If you use these, just remember to check the colour hasn't run if it rains, or better still, get them laminated. Easy.
The same types are available for all plates. Either way, as long as the area you're putting the plates on is fairly clean, they should stay in place.
Where to put L plates
There isn't a specific place that L plates have to go, but they need to be visible to other drivers on the front and back of your car and shouldn't block your view. That means you need at least two plates, and it's the same for P plates, T plates or if you're using D plates in Wales.
You should probably avoid the windscreens, bumpers, number plates and front grill of your car as these can block your view or make it hard for drivers to see. A good place for them is the bonnet.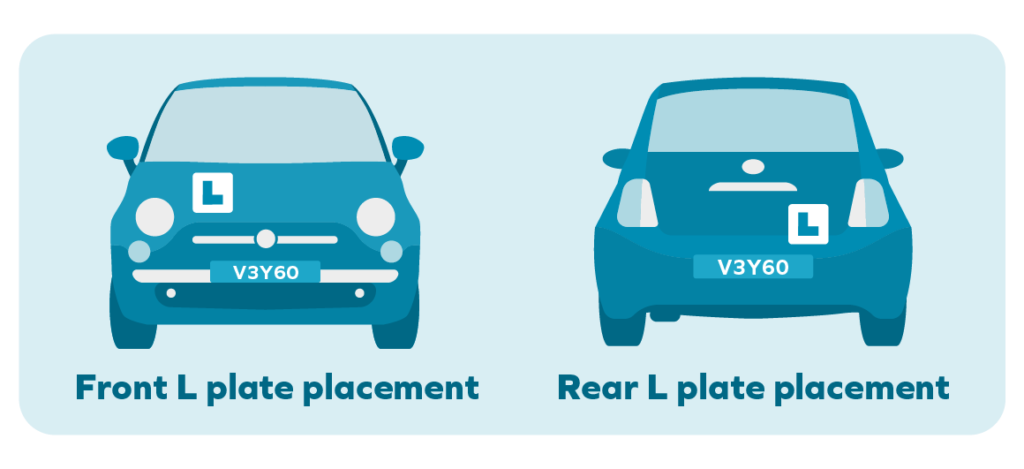 Driving with L plates when you're not a learner
Like many learner drivers, you may well be learning to drive in in somebody else's car. Heads up that with our learner driver insurance you can practice in a friend or family member's car from 2 hours up to 90 days.
While you're borrowing their car, it's a good idea to take off the L plates whenever you're not behind the wheel. It's not illegal to drive with L plates if you're not a learner, but it can be confusing for other drivers. It's also worth knowing that driving instructors usually keep their L plates on all the time which is perfectly legal.
Goodbye L plates
When you finally pass your test it's time say goodbye L plates and hello to the freedom of driving on your own. It's a pretty good feeling, pulling off those red and white L plates once you've passed your test. It may be a good idea to pass on your L plates to a mate who hasn't learned to drive yet or donate them to a charity shop.
If you're thinking… "I've passed my driving test! Now what?" we've got a whole article to fill you in on the next steps. And if you didn't pass, not to worry. Keep practicing and you'll get there. Here's our tips on how to pass your driving test.
Do new drivers have to use P plates?
So you've finally passed your test and you're ready to hit the road. You don't legally need to have P plates on your car, but they can be helpful to ease off the pressure of being a new driver. They might also be helpful if you're driving in a new area and need more time to make decisions.
P plate rules
There are less rules for P plates, you'll be happy to hear. You don't need to worry about having the wrong size plates and there's also no limit to how long you leave them on for, so just pull them off when you're fully confident.
So now that you've got your plate full (pun intended), if you're learning to drive, it may be a good idea to get some extra private practice in a friend or family member's car. You can get learner driver insurance here quick and easy from 2 hours up to 180 days to use when you need it. The car owner's no claims bonus won't be affected if you need to make a claim. Don't worry, we've got your back.