3 minute read
Car Sharing
Lifestyle
Hello Wembley! Get Ready For Progress
On Sunday, Wembley Arena hosts the biggest UK Wrestling show in more than 30 years, here's how to make more of your day if you're attending.
Sunday September 30th 2018 – the day that the stigma of enthusiastic grannies in the crowd and wrestlers who spend more time at an "all you can eat" than the gym are condemned to British Wrestling's past, as Progress Wrestling is set to put on the biggest show the UK has seen in more than 30 years.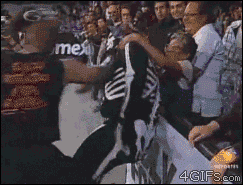 Source: Giphy
1. Know the grapplers
Progress has been at the forefront of the British Wrestling revival for the past six years, laying the foundation for the relaunch of ITV's WOS Wrestling and WWE's NXT UK.
The likes of Finn Balor, Jack Gallagher, Marty Scurll and Will Ospreay all played a part of Progress' rise. While some have moved on, new stars have maintained Progress' reputation as one of the best promotions in the world.

Image Source: https://twitter.com/thisis_progress
WWE NXT's Pete Dunne, Tyler Bate and Trent Seven will all be in marquee matches against Ilja Dragunov, Walter, and British wrestling legend Doug Williams respectively.
WWE UK's Zack Gibson, Flash Morgan Webster, Wild Boar, Toni Storm and Jinny will also compete. Mark Andrews will face against Eddie Dennis, who notably quit his job as a headteacher to pursue life as a full-time professional wrestler last year.
Former UFC fighter Matt Riddle will be having his last match outside of WWE, having recently signed with them.
2. Show your support
Since the late 90's seeing fans wearing T-shirts of their favourite wrestler or promotion has become almost as common as seeing fans of bands or football teams doing the same.
These days just about every wrestler has an abundance of t-shirts and other merch available to buy online such as via WWE Euroshop, Pro Wrestling Tees, or via Shopify or Big Cartel stores.
You could assume that t-shirts will be available to purchase at the arena and who knows, maybe there will be some limited-edition items that can only be found at live events!
3. Choose the right playlist
Fans will come from far and wide to get to Wembley on Sunday. Google Maps suggests the drive will take around 3 hours from Sheffield, 6.5 hours from Glasgow and just over an hour from Reading.
Whatever the distance you'll need a good playlist. There are plenty of playlists featuring Wrestler entrance themes past and present available on Spotify, such as this one:
4. Sort your parking
The thought of parking at an event may be off-putting, however Wembley Arena has a large car park which can be reserved in advance. There's also a number of options available via Just Park
5. Share the drive
Driving a long way can be tiring, especially if you are the only driver. With our Temporary Car Insurance your friends and family can get insured on your car, or you could borrow a car from your friends and family from one hour to 30 days.