Everything is always changing in the world, and it always either seems to be progression or regression. So, with electric cars and the environment in mind, let's talk about progression, specifically with electric cars.
Both the technology for electric cars and electric cars themselves have existed for quite some time, but like the wheel and the suitcase, they never seemed to exist together early enough.
Elon Musk and his brand of electric cars seem to have paved the way for popular mass-produced electric vehicles. Building a brand from the bottom up, starting with an electric sports car to eventually sell enough of them to start building and producing a cheaper Tesla model so that everyone will be able to have an electric car for themselves.
According to
Heycar
, we've been able to gather that the cheapest electric car on the market is Smart EQ Fortwo, looking at the specs and size of the car it's pretty much designed for cities and towns. With that in mind, you'll get a decent run around for the money you spend!
Auto Express
gives us a tidy list of the electric cars that they believe to be the best out there in the UK. When referring to the list it's somewhat important that you refer to it as a guide rather than a definite stance on which are the best electric cars to buy.
Let's take a look at some of the electric cars we insure at Veygo!
Tesla
So, speaking of Elon Musk and his brand, let's begin with Tesla. Being one of the first big names on the market and fully electric they're considered a pioneer of mass-producing electric cars. They've been so successful with the cars that they've branched out into other fields of clean electricity!
Tesla's aren't only one of the first brands to produce all-electric cars but they also have superior battery technology, most miles covered in a single charge, and one of the fastest electric cars on the road, including a line of pickup trucks.

Renault
One of the more popular fully electric models that Renault do is the Zoe, there are plenty of different types of the 'Zoe' to choose from and it has also been voted '
What Car?
' "Best Small Electric Car for Value 2021″
Perhaps not the most notorious brand for larger or more powerful cars but Renault has a wide range of electric vehicles ranging from compact city cars, all the way up to vans. Whatever your need for an electric vehicle, Renault is likely to cover you for a great price and great quality!
BMW
BMW has been a giant in the car industry for years and when it comes to electric cars, there's no change! After the popularity of Tesla's, BMW jumped on the bandwagon and released the ever-popular hybrid.. BMW i8.
However, we're talking about electric cars, not hybrids. BMW has always marketed a classy, sporty car and nothing changes with their electric range. Don't worry if you're a fan of their bigger 4×4 cars, the iX xDrive40 and the iX3 have you covered.
Volkswagen
Having sold the most popular car across Europe, Volkswagen has certainly earned their name, as per their 'classic' range, you're able to get all the excitement of their mechanical range within their electric range.
If you're an avid Volkswagen fan, particularly the Golf, then switching to zero emissions shouldn't be an issue for you! If you're not someone who's looking to buy the sought after Golf, again, you shouldn't have any issues. Volkswagen has plenty of range from city cars and are super close to releasing an all-electric campervan based on their classic VW Camper.
Kia
A great option for those who are looking to get into driving electric, but don't want to pay the prices of other brands like BMW and Audi. Launching their first line of electric cars in 2014 it only took them 4 years to win an award for 'car of the year' with
What Car?
.
Kia looks to give back with their cars, so you're not just buying the car to look out for our planet. Each of their electric cars comes with regenerative braking, long distance-driving, the power to charge your car at home or in public, and a hefty 7 year warranty. Kia really is the people's choice.
Audi
E-trons.. Audi's futuristic-sounding line of electric cars. Again, like Volkswagen, it's everything you could ask from their combustion engines, in their CO2 free engines. Audi is a great option for electric cars as not only do you get the zero-emission engines, but you also get a sleek and stylish looking vehicle.
Why electric cars?
As previously mentioned the planet is warming up and running out of oil, so everyone is looking to cut back on their carbon footprint. One way for everyone to be able to achieve this is by swapping out fossil fuels for renewable energy.
Most people drive, (or are learning to drive) and driving is one thing people think of first when it comes to their consumption of fossil fuels so natural people will look to reduce their fossil fuel consumption there.
The stigma has now gone for electric cars being inconvenient. The batteries on electric cars now run for longer than you could need, charging points are becoming more and more accessible, and home charging is cheaper and better than ever!
Imagine the scenario, commute to work or the school run, you're running late, and you notice that you're too low on fuel.. Nightmares, you're now later than you were before!
Now imagine this: wake up, you're able to turn your car heater, or air con on from your bed (to heat or cool the car), get in and notice you have got a full battery, all because you went electric, convenience at its finest!
Pros
At home and on the go charging
Much cleaner energy and fewer emissions
Savings made on tax and fuel
Typically more advanced features
Futuristic, you're keeping up with the world
Cleaner conscience (and air quality)
Less risk of things going wrong/less maintenance
Better take-off performance
Cons
On the longest journeys, you may struggle to find a charging outlet
Time to refuel is much longer than fossil fuels
Currently more expensive to purchase than a fossil fuel car
Arguably not as nice as the classic cars (despite classic models being remade with a battery)
Some electric cars will ask you to unlock hardware features on the cars to increase performance.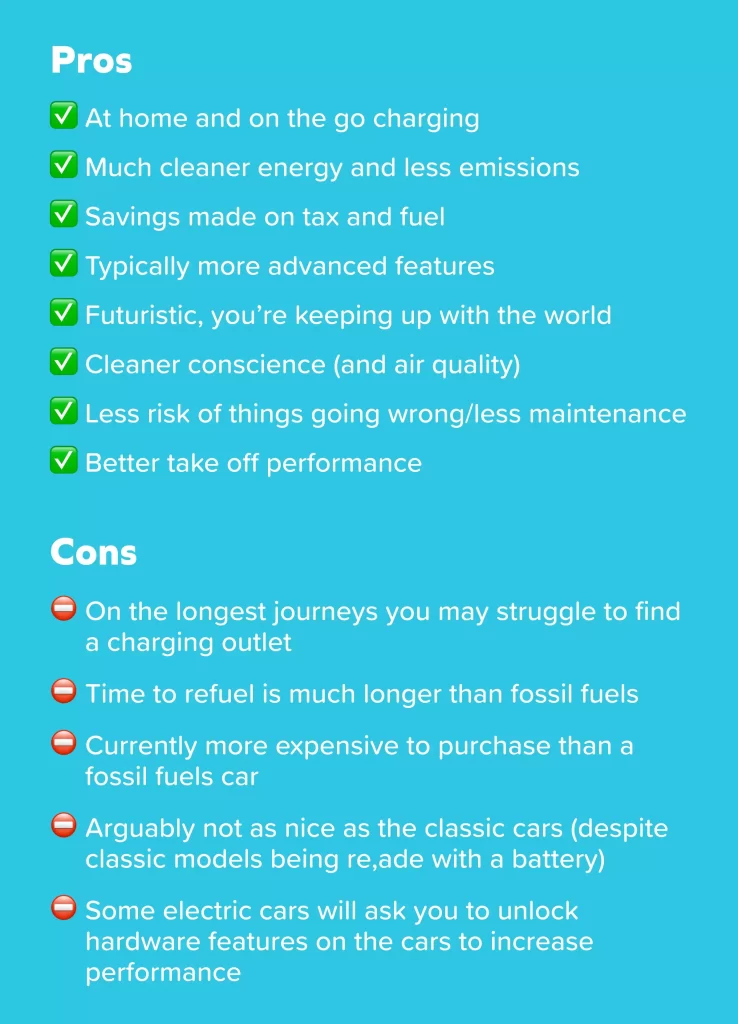 As with most new things, there will always be teething problems, hence the cons, but this means it gives companies time to iron out the creases and look at what can be improved.
Incentives for going electric
Similar to the pros of going electric, there are some serious incentives for getting a 'green' car, some are as follows;
Government grants
You'll be given a discount from the vehicle manufacturer or dealership off the total price of the car when purchasing. To find out more about the grants for your low-emission car visit
GOV.uk
.
UK roadmap
Very similar to the grant incentive by
GOV.UK
, this roadmap intends to get all cars zero emissions from the tailpipe by 2035, so by purchasing electric now you get ahead of the game!
Features
The features that come with an electric car aren't just driving benefits, you also have a great console to control your car from, wirelessly or whilst in the car. Tesla to name one of the few are mounted with a 17″ tablet, and it's not just a sat-nav or movie player like most cars, it has the full capability of a pc being able to access all the car's features.
Using Tesla again as an example, the driving features may be just as incredible as the computer features they have. Tesla can produce things like ridiculous horsepower, insane torque, and a huge mile coverage all in their batteries and engines! Access to their full specs are on the
Tesla
website for a full breakdown (as it will be for most car manufacturers).
If you know someone with an electric car and fancy giving it a spin, Veygo offers a great rate on
temporary car insurance
that'll allow you the opportunity to give it a go and see for yourself!