If you're living with the one you love (or just really like, we don't want to put labels on it) during lockdown, you may have started to think about how you're going to celebrate on a certain special day this February. No, we're not talking about the Six Nations starting…it's Valentine's Day.
First off, if you've made it through lockdown with your partner and you still enjoy each other's company, congratulations, you win. It's been a tough year, so it's the perfect time to say thanks to your lockdown love/like by making a special effort this Valentine's Day.
The usual date nights are out the window; dinner at your favourite restaurant, a cinema trip or drinks out in town. So, we're going to have to get a bit creative this year.
There are loads of cute things you can do from the comfort of your own home. But as our thing is car insurance, we're not going to talk about any of them. We're going to help you out with lockdown date night ideas you can do from your car/driveway.
Car date ideas
Most of the things we had in mind involve actually driving somewhere; heading to a scenic spot to watch the sunset, going for a spontaneous drive or taking a trip to a drive in movie theatre. But given we're not supposed to leave the house unless it's essential, they'll all have to wait until later this year.
Turn your car into a cinema
Nothing beats the classic movie night. Sure, you could just watch a movie on your sofa, but it's fair to say we're all fed up with watching TV in our living rooms by this point. If you've got a car parked on your driveway you could have your movie night in there.Turning your car into a cinema will make it feel like a special occasion…and at least you technically get to leave the house, even though you're only sitting on your drive.
Fold your rear seats forward to create a flat surface. Most cars have a button or lever at the top of the seat that you can do this with.
Some cars will already be flat after you do this, but if there's a gap in between the boot and the seats you'll need to fill it with something. Cushions work well for this.
If you've got camping mats, lay two down to create a comfortable surface and then cover with a throw.
If you don't have camping mats, you can improvise and layer up the base with blankets.
Get a duvet and some pillows in there.
Make it cosy with more blankets and cushions…it is February after all.
Put some battery powered fairy lights around the inside of the car. You can attach these easily to the back of the front seats and the inside door handles.
Snacks! Go and pick up your partner's favourite movie snacks…popcorn, chocolate, the works. This article even tells you how to make a Tango Ice Blast at homeif you want the full cinema experience.
Get your laptop at the end of the 'bed', open up Netflix and stick on your favourite movie.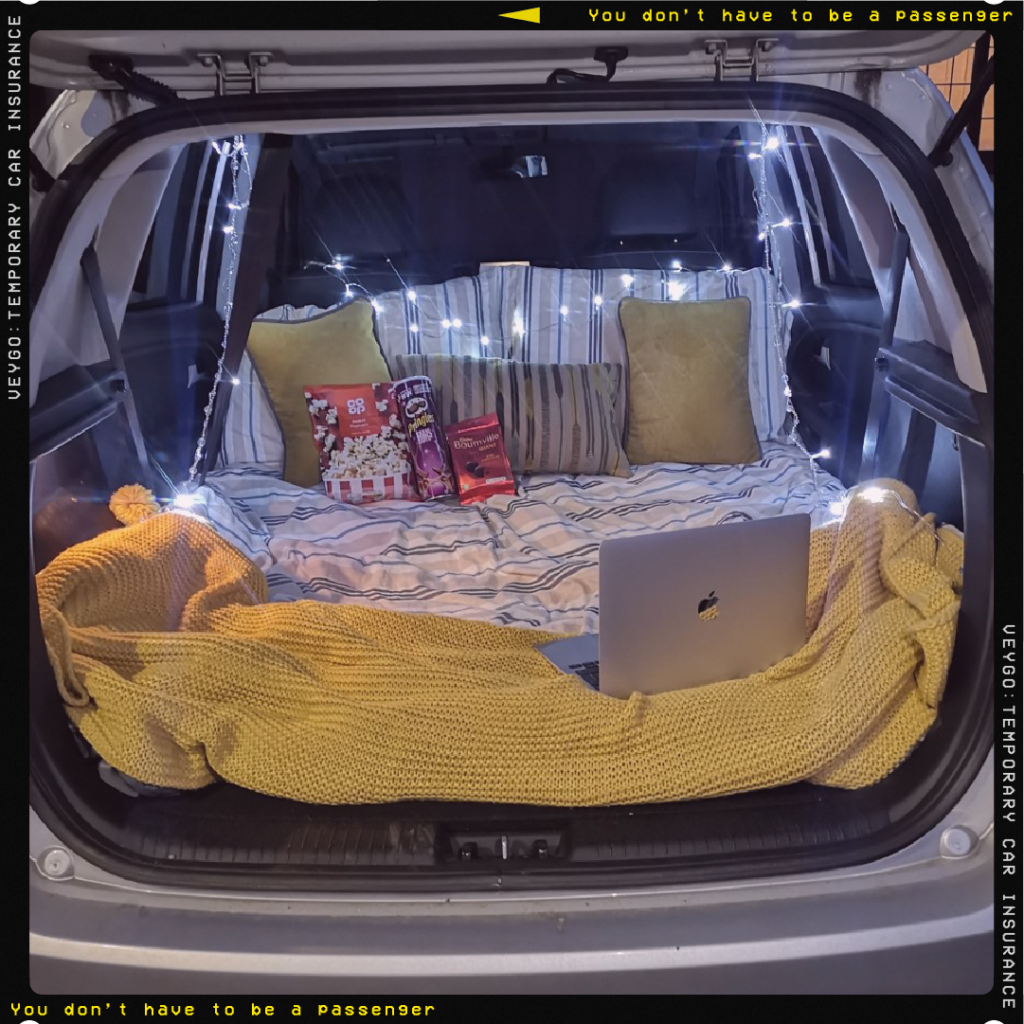 Lockdown dinner: Drive through
Want to grab some dinner before your in car cinema date? Drive throughs are still open. Remember that very first lockdown when even Mcdonald's drive through was closed…that was rough. What better way to say 'I love you' than with some chicken nuggs and a mcflurry?
Happy Valentine's Day
We were going to do a little piece around "Share the love, share the driving", but as we're in lockdown and we can't actually go anywhere…let's just go for a shameless plug. If you ever need temporary car insurance for your own car or want to borrow someone else's, you know where to find us.
Or if you're learning to drive this could just be an opportunity to spend some more time in your car. Could do a Netflix watch party with your mates? But if you want to actually get behind the wheel, next time your parents are heading on their essential weekly shop, you could practice driving with our learner driver insurance.
Just one last thing…make sure you double check local lockdown guidelines before you use your car for any reason. Happy Valentine's Day!